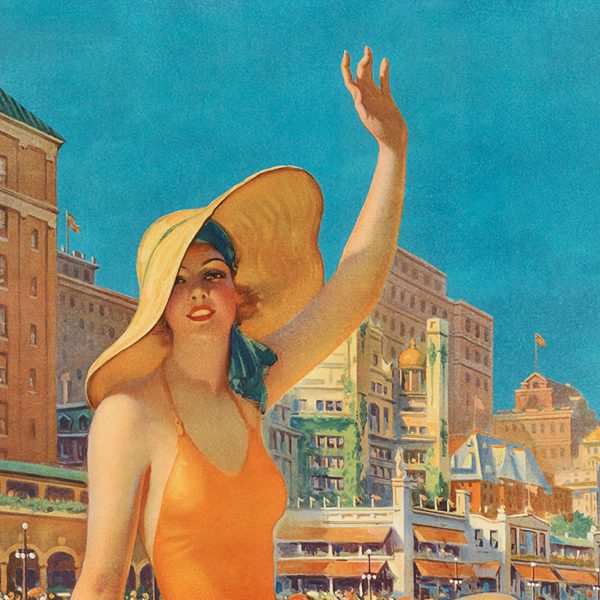 Virtual Summer Vacation: Travel Poster Cocktail Party
August 19, 2020
7–9pm
---
Our ongoing Posters & Cocktails parties have been met with rave reviews, so we are giving the summer one last hurrah with another mixological blend of drinking and design!
Our Chief Curator will once again be hosting Nicholas Lowry of Swann Auction Galleries and Don Spiro of The Green Fairy Society over Zoom as they take us on a virtual summer vacation full of travel posters and beach drinks!!
We may be stuck at home, but that doesn't mean we can't travel the world! After making an initial cocktail with Don, let the evening breeze blow through your window and pretend you're on some exotic beach while Nicholas takes you around the globe through posters. As our glasses empty, Don will teach us four more island-themed beverages, the perfect remedy for those staycation blues.
To keep us thoroughly lubricated, here are our libations for the evening:
BLUE HAWAII
– Light Rum
– Vodka
– Lemon Juice
– Lime Juice
– Pineapple Juice (unsweetened; fresh is best)
– Sugar
– Ice
DARK & STORMY
– Dark Rum (preferably Goslings)
– Lime (optional)
– Ginger Beer
DAIQUIRI
– Light Spanish Rum (Cuban or Puerto Rican)
– Lime Juice
– Sugar
MAI TAI
– Blended Aged Rum (or mix your own aged Jamaican rum with a Martinique rhum)
– Curaçao or similar orange liqueur
– Orgeat
– Fresh Lime (for juice & garnish)
– Simple Syrup (1:1 sugar & water)
– Mint Garnish
SINGAPORE SLING
– Dry Gin
– Bénédictine
– Cherry Brandy
– Cointreau (can be substituted with triple-sec)
– Pomegranate Syrup (grenadine)
– Lime Juice
– Pineapple Juice
– Angostura Bitters
– Seltzer