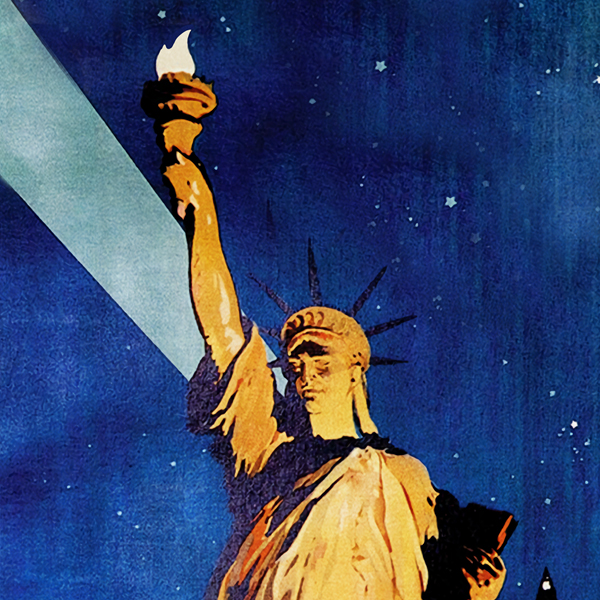 Virtual Talk: New York City in Posters
August 25, 2020
6:30–8pm
---
New York City didn't become the capital of the world overnight. The Big Apple also relied on world class advertising to attract visitors. 
Before it was a tourist destination, New York City was (and still very much is) a port town, a terminus for ships arriving from Europe and beyond. Between 1892 and 1924, over 12 million immigrants arrived at Ellis Island in New York harbor. The gleaming city—a large, bustling, shiny magnet—with its towering buildings appeared on countless posters produced by steam ship and ocean liner companies. 
The city was also home to the headquarters of the New York Central Railroad, with its 26,000+ miles of tracks connecting the East Coast with the mid-Atlantic states and the Great Lakes region, and to Grand Central Station ("the gateway to a continent"), a hub through which the rest of the country could be reached. It hosted the 1939 World's Fair that counted almost 45 million visitors from around the country and around the world, and it boasted soaring skyscrapers—awe-inspiring structures rising like ziggurats, modern cathedrals to progress and imagination—and a cityscape unlike anywhere else. The city was home to Broadway and Times Square, and a stylish, incomparable urban hustle and bustle. 
Now, with tourism momentarily frozen due to the COVID-19 pandemic, it is a perfect time to pause and reflect on the attributes of this great city that many of us take for granted. Over the past 100 years, all the things we consider uniquely New York have been graphically presented in posters, tempting an incredulous and eagerly-awaiting world to come and see the city that never sleeps. 
Join Poster House and Nicholas Lowry of Swann Auction Galleries as we view the historical, promotional images that not only drove visitors to the city, but delineated her amazing contours to countless others, searing an indelible, enviable image into the imaginative conscious of the world, burnishing a mythology that New York City still generates today.