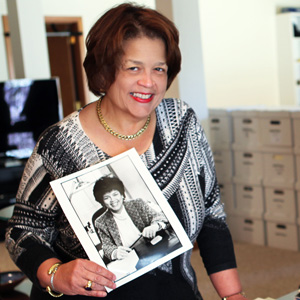 Black Designers: Missing In Action
May 11, 2020
6–7pm
---
Join Poster House and legendary graphic designer, Cheryl D. Miller, of Cheryl Miller Design, Inc., for an interactive Zoom talk about her landmark Print magazine article, "Black Designers: Missing in Action" (1987). She will also be reading portions of her followup article, "Still Missing?" (2016) as well as her Pratt Institute thesis, "Transcending the problems of the black designer to success in the marketplace." Miller will share the story and secrets behind these infamous writings about the lack of equity in the design world, as well as her thoughts about how black designers can continue to make strides in the field.
Based out of New York City in the 1980s and 90s, Miller's award-winning agency serviced clients such as Time Warner, Inc., the Ford Foundation, Philip Morris, and McDonalds. Nonprofit clients included the Congressional Black Caucus Foundation, Joint Center for Political and Economic Studies, the NAACP, and the United Negro College Fund.
Miller, knowing the value of her work, saved everything from her agency days. Client notes, sketches, accounting information—she saved it all. Miller donated her life's work to The Stanford University Libraries, where the Cheryl D. Miller Collection is currently on display. Poster House is also the proud home of her complete poster archive.
This event is free for anyone who registers. Zoom information will be sent the morning of the talk.