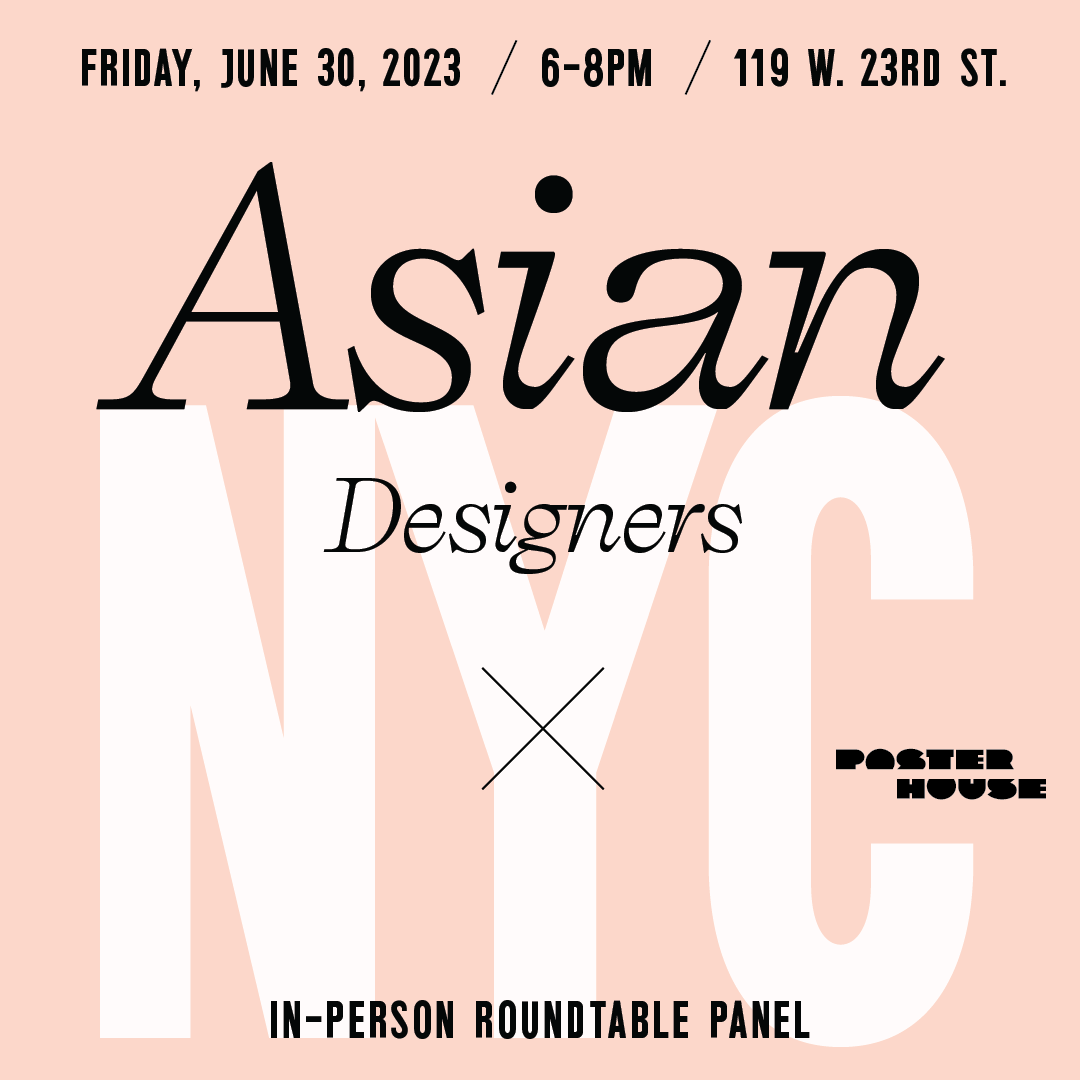 Asian Designers x NYC
June 30, 2023
6–8pm
---
The achievements and cultural contributions of Asian designers and Asian-led design studios often go under-appreciated. This June, Isometric Studio is convening fellow designers of Asian origin at Poster House for a special roundtable conversation on their journeys, practices, and contributions to the field. Join us to learn more about the conceptual themes that run through these designers' work, as well as the challenges and opportunities they have encountered in their careers. Each participant will present a brief ten-minute snapshot of their recent work, followed by conversation.
Natasha Jen is an award-winning designer, an educator, and a partner at Pentagram. Born in Taipei, Taiwan, she joined Pentagram's New York office in 2012. A four-time National Design Award nominee, Natasha's work is recognized for its innovative use of graphic, verbal, digital, and spatial interventions that challenge conventional notions of media and cultural contexts. Her work is immediately recognizable, encompassing brand identity systems, packaging, exhibition design, digital interfaces, signage and wayfinding systems, print and architecture. Her clients include a wide range of collaborators from global technology brands to cultural institutions, including Google, Waze, Lightmatter, Galaxy Digital, New York Botanic Garden,  The Asian American Foundation, Harvard Graduate School of Design, and The Metropolitan Museum. Natasha has earned awards from every major design competition and is frequently published in publications, including Wired, Fast Company, Kinfolk Magazine, Print Magazine,Creative Review, and Metropolis. She was a winner of Art Directors Club's Young Guns 4 and also served as a judge for the competition in 2007, 2011, and 2017.
Dungjai Pungauthaikan is a co-founder and Creative Director of Once-Future Office. A big picture systems-thinker who loves connecting design, people, and the built environment, she sees potential in all things and brings unmatched creative vision to the studio. A first-generation Thai-Chinese American and native Californian (LBC!), she leads our teams and projects with warmth and patience while getting shit done. Dungjai is an award winning designer whose work has been recognized by the Art Directors Club, Type Directors Club, Print Regional Design Annual, the Society of Publication Designers, and the Van Alen Institute. 
Sophia Yeshi is a queer Black & South Asian illustrator and graphic designer in Brooklyn, NY. She's a digital native that discovered Photoshop at 12 years old while growing up in Baltimore, Maryland. She uses her work to shine a light on Black women, women of color, and folks in the LGBTQIA+ community that are bold, dynamic, and demand attention. She uses her platform to intentionally celebrate the communities that she didn't see represented growing up. Her aesthetic is defined by joyful figures, vibrant colors, and organic shapes. She works with brands such as UPS, Adobe, Netflix, Spotify, and Madison Square Garden to create culturally-relevant work centered around topics she's passionate about like LGBTQIA+ pride, support for underrepresented business owners, and mental health awareness.
Andy Chen and Waqas Jawaid are partners at Isometric, a Brooklyn-based graphic design and architecture studio. Andy is a second-generation Taiwanese immigrant, and Waqas is a first-generation Pakistani American. Isometric collaborates with leading cultural institutions, universities, tech companies, and nonprofits, expressing their missions though visual identities, exhibitions, and websites. The studio advances an ethos of inclusion, equity, and justice, centering the lived experiences of marginalized people. Its projects often address complex social issues, amplifying activism on gender equity, climate change, racial justice, LGBT identity, and immigrant rights.
This program is presented in person at Poster House. ASL (American Sign Language) interpretation or a CART (Communication Access Realtime Translation) is available upon request with two weeks notice—please email access@posterhouse.org to request interpretation services. Visual descriptions will be provided.
Questions about accessibility? Please contact Sarit Cahana, Access Coordinator, at access@posterhouse.org or (914) 295-2387‬.
For other event related questions, please contact info@posterhouse.org