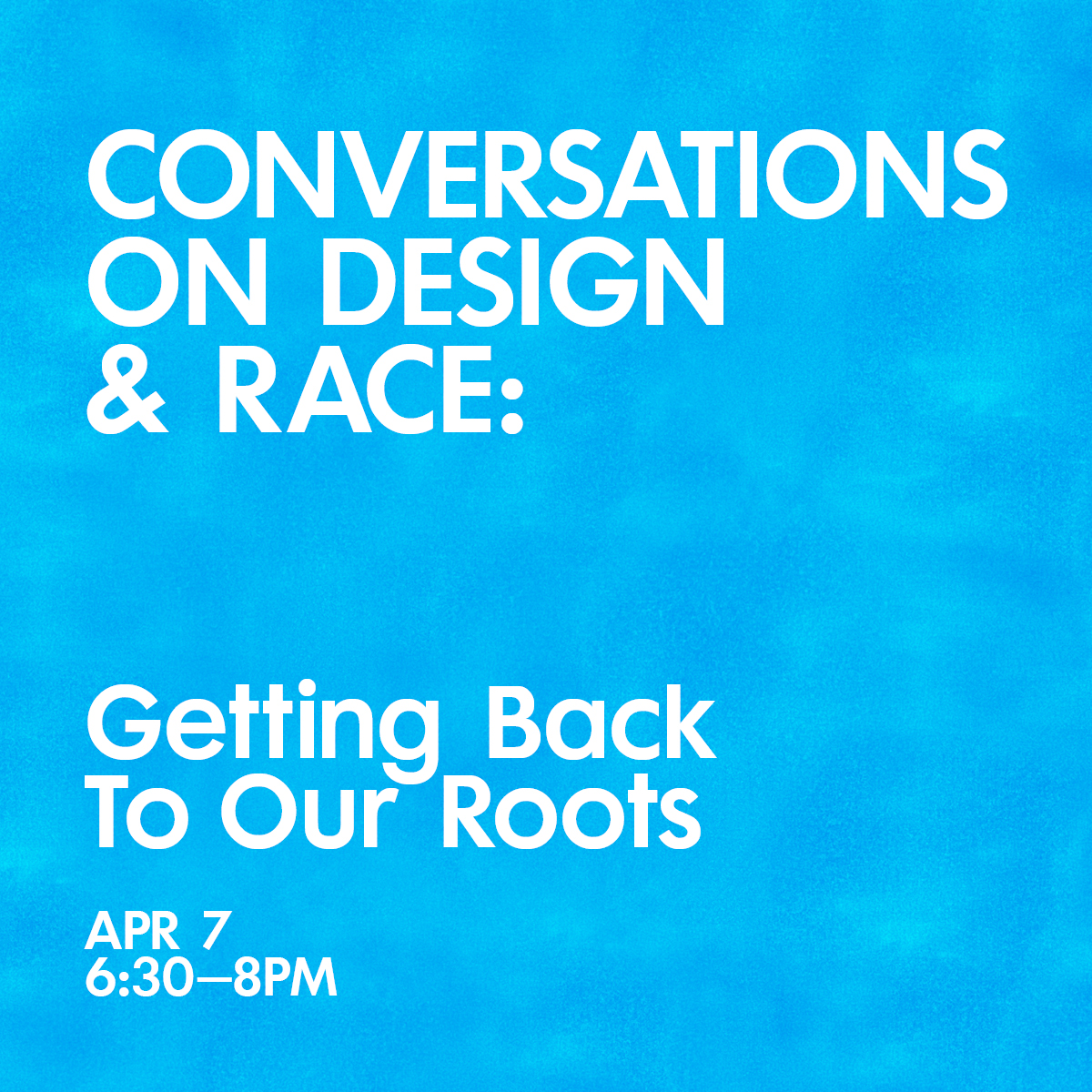 Conversations on Design & Race: Getting Back to Our Roots
April 7, 2021
6:30–8pm
---
Join designers Kelly Walters, Jason Alejandro, Anne H. Berry, and David Jon Walker for a panel discussion on how the influence of family, cultural origins, and ancestral heritage takes form in design practice. The designers will look reflectively at their upbringing, present objects that maintain cultural significance, and share their experiences as design students, educators, and practitioners, as discussed inBlack, Brown + Latinx Design Educators: Conversations on Design and Race by Kelly Walters. Attendees will have the opportunity to ask questions of the panelists and to order copies of Black, Brown + Latinx Design Educators. All attendees will receive a 10% Discount on the book in our Shop!
About the book: In Black, Brown + Latinx Design Educators, Kelly Walters collects twelve deeply personal interviews with graphic design educators of color who teach at colleges and universities across the United States and Canada. The book centers the unique narratives of Black, Brown, and Latinx design educators, from their childhood experiences to their navigation of undergraduate and graduate studies and their career paths in academia and practice.  The interviewees represent a cross-section of ethnic and multiracial backgrounds–African American, Jamaican, Indian, Pakistani, Puerto Rican, Dominican, Mexican, and Brazilian. Their impactful stories offer invaluable perspectives for students and emerging designers of color, creating an entry point to address the complexities of race in design.
Jason Alejandro is a Puerto Rican graphic designer and educator. He is an Assistant Professor of Graphic Design at the College of New Jersey. His work examines, addresses, and questions aspects of cultural identity, professional practice and critical pedagogy through research, making, and writing. He previously taught at Rutgers University, Lehigh University, Kean University, and the University of Pennsylvania. Jason received his MFA in Graphic Design from Vermont College of Fine Arts.
Anne H. Berry is a writer, designer, and Assistant Professor in the Department of Art and Design at Cleveland State University. Her research focuses on design education and ethnic and racial representation within the field of graphic design. She is a 2018 Design Incubation Fellow,
and she recently published an essay titled "The Black Designer's Identity" for Recognize, an online design anthology presented by InVision that features essays from Indigenous people and people of color.
David Jon Walker is a Graphic Designer and Assistant Professor of Graphic Design at Austin Peay State University in Clarksville, Tennessee. He is also principal of Rhealistic Design, a design consultancy that is active locally and nationally. As a sought-after Black creative, Walker works with national political candidates, PACs, large non-profits, governmental entities, and varying businesses lending his talents to their marketing efforts to increase awareness and further campaigns. He examines social cues and the historical past to shape the aesthetic of his visual voice for personal lettering projects.
Kelly Walters is an Assistant Professor and the Associate Director of the BFA Communication Design program in Parsons School of Design at The New School. In her independent design studio Bright Polka Dot, she works across platforms to create publications, exhibitions, and digital experiences for educational and cultural institutions. Her ongoing design research interrogates the complexities of identity, systems of value, and shared vernacular in and around Black visual culture.