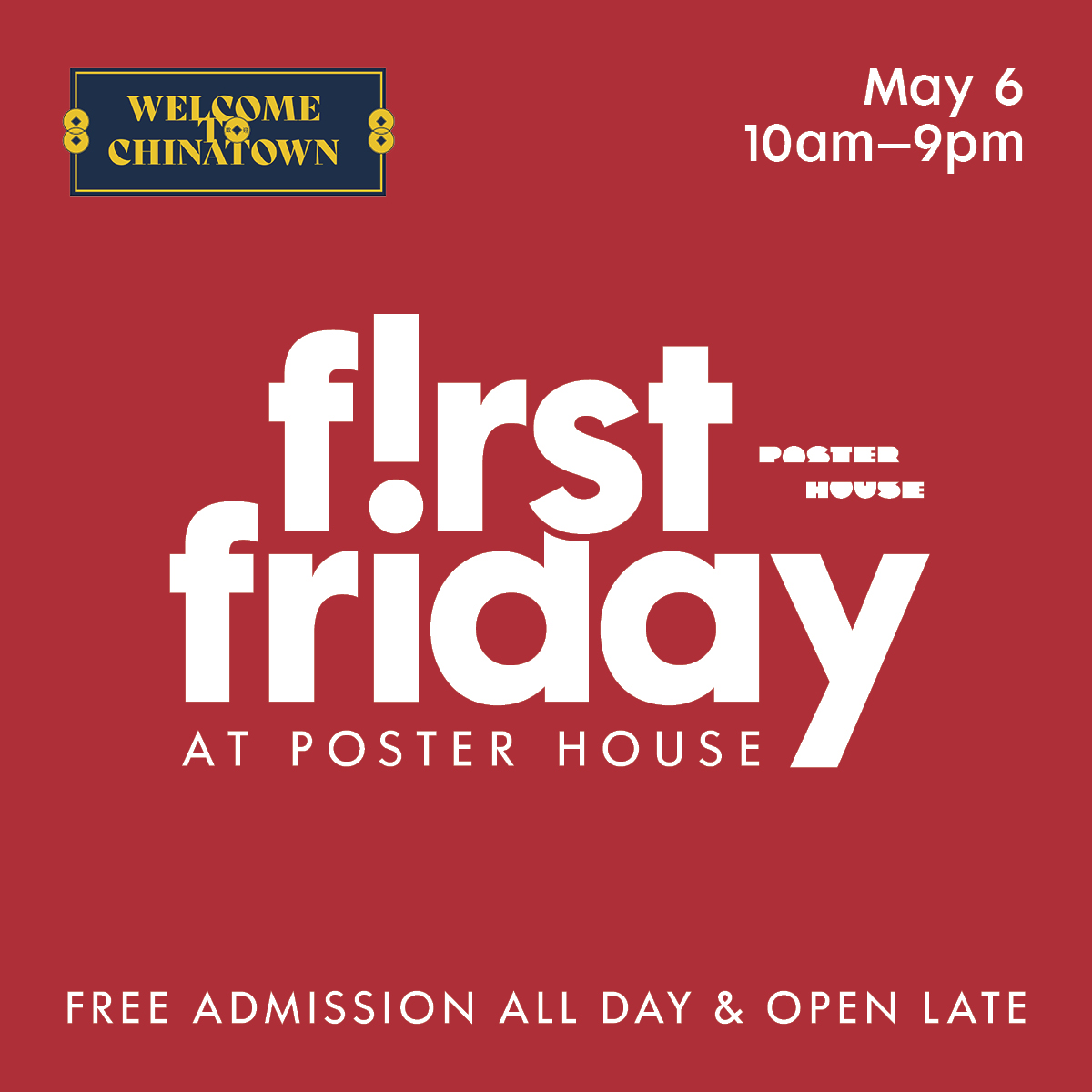 First Friday
May 6, 2022
10am–9pm
---
Join Poster House on the First Friday of every month for free admission and extended hours! Explore the museum's latest exhibitions and get in on the fun by attending a tour, workshop, or activity throughout the day. This month, the museum is thrilled to partner with Welcome to Chinatown for a series of programming that celebrates the culture, community, and resilience of Chinatown. Stop by and learn more about Welcome to Chinatown and how you can support the organization's recovery efforts. 
12–2pm
Block Printing with Optimism
In this workshop led by artist Emily B. Yang, participants will learn to block print with a sense of optimism. Emily's images have been exhibited at galleries, posted around Chinatown, and printed on signs for rallies protesting AAPI hate and the New York City Chinatown mega jail. Her work is personal, referencing characters, stories, and attitudes from her own life.
In this hands-on workshop, attendees will use soft rubber carving blocks to create an image with a message that is unique to them. Whether referencing a part of their own story or representing a cause that they believe in, the image will be carved along with a short phrase. Participants will learn techniques for carving, inking the block, and transferring it onto paper. Students will get to keep the block they created in class.
Each participant will create their own original block print. At the end of class, participants will be encouraged to take part in a small print exchange, so that they will walk away from the class with not only their own print but messages of optimism from all attendees. All proceeds from this workshop will support Welcome To Chinatown's recovery and resiliency efforts.
3pm
Made in Chinatown: Designing for Our Own Communities
For the past year, AAPI designers have seen an exponential growth in demand for their creative work. There is finally interest in their lived experience, shared memories, and culture in contemporary design. While AAPI designers are asked to design for the masses, what does it mean to design for their own communities? This panel features three designers from the Made in Chinatown program who will talk about their experiences working with Chinatown businesses. They will also reflect on what it means to create work for their community. This panel is moderated by Faidat Fahm, Product Designer and will feature Harry Trinh, Head of Creative at Welcome to Chinatown, Eden Lew, Interdisciplinary Designer, and Kasey Coffey, Designer, Illustrator, and Tom Yum Enthusiast.
6:30pm
Cinema on Paper Book Signing
Join author and collector Dwight M. Cleveland for a signing of his book Cinema on Paper: The Graphic Genius of Movie Posters. Featuring more than 100 lobby cards and posters from Cleveland's vast collection, Cinema on Paper is a celebration of the fantastic history of movie advertising. After the signing, be sure to check out Experimental Marriage: Women in Early Hollywood—an exhibition drawn entirely from Dwight's collection—and learn about how women shaped the early film industry. Questions strongly encouraged!
7:30pm
Blockchain & Chinatown: Thoughtfully Designing Technology
Welcome to Chinatown and its collaborators are working towards bringing a digital loyalty program to Chinatown. The intention is to have a community-defined loyalty program that incentivizes more visitors to the neighborhood and equips small businesses with analytic data to further their business planning. What are the needs of the Chinatown small business owners and what do currently-existing loyalty programs fail to provide? What are the benefits of a blockchain-based loyalty system? How did they incorporate their learnings from an NFT launch into the program?
All day long, stop by a pop-up shop at the 24th Street entrance to peruse a selection of products directly from Welcome to Chinatown's Made in Chinatown line. The Made in Chinatown moniker is deliberate—it's our way of subverting traditionally negative connotations of "Made in China" products and redefining what "Made in Chinatown" is: made by the community, uplifting our community. Our popular merchandise program provides our small business partners with a new revenue stream to establish their brand presence. We pair a business owner with a passionate, talented artist to create merchandise with zero overhead costs. Profits benefit both the small business and the artist.