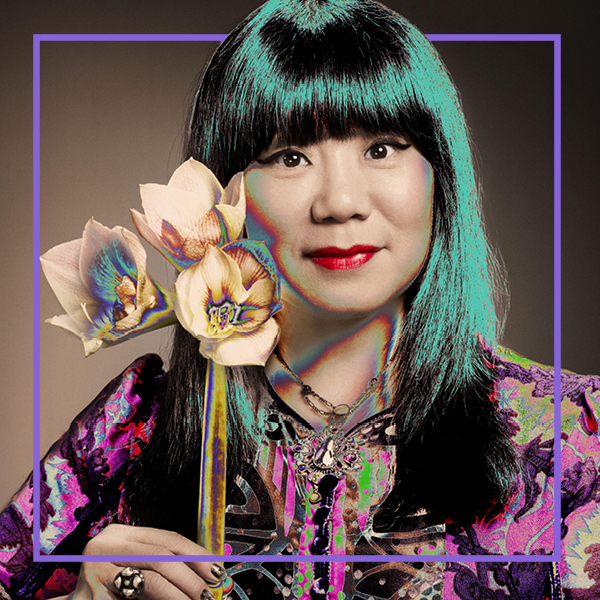 Poster Inspiration: A Virtual Night With Anna Sui
October 19, 2020
6:30–8pm
---
Poster House is thrilled to present an evening with fashion design icon Anna Sui as she discusses how posters have inspired some of her most dynamic and beautiful collections. A native of Detroit, Anna Sui's work translated photography, music, pop culture, and art history into effervescent designs for women who embraced eclectic chic and rockstar beauty. She was recently honored with a retrospective at the Museum of Arts and Design in NYC which will be traveling to NSU Ft. Lauderdale in February, and her runway shows, with their creative visuals, unexpected interactive moments, and brilliant soundtracks continue to excite fashion lovers around the world. Tonight, she will be focusing on how posters from the 1960s and 70s have influenced and inspired her work.
Anna Sui is one of New York's most beloved and accomplished fashion designers, known for creating contemporary original clothing inspired by spectacular amounts of research into vintage styles and cultural arcana. Sui joined New York's intensely creative cultural underground in the 1970s, forging important relationships in the worlds of fashion, photography, art, music, and design.
A first-generation Chinese American, Anna Sui came of age in a suburb of Detroit. Her career is a classic American success story. "You have to focus on your dreams, even if they go beyond common sense. How could this young girl from the suburbs of Detroit become a success in New York? It was always that dream," she says. Sui was part of a generation of fashion designers who remade American style in the 1990s. She rejected 1980s power dressing, with its corporate suits and big shoulder pads, in favor of a more relaxed silhouette that reflected the values of youth culture.
Since her premiere runway show in 1991, Sui has produced eighty-four collections, and she remains at the helm of her independent brand. Her label has grown to include accessories, cosmetics and fragrance, and she operates boutiques in the United States and Asia. A passionate advocate for New York's Garment District, she has located her business and produced her fashion lines here in New York City for the past thirty-eight years.
Photo by Joshua Jordan
Tickets: $5
Members & Students: Free!