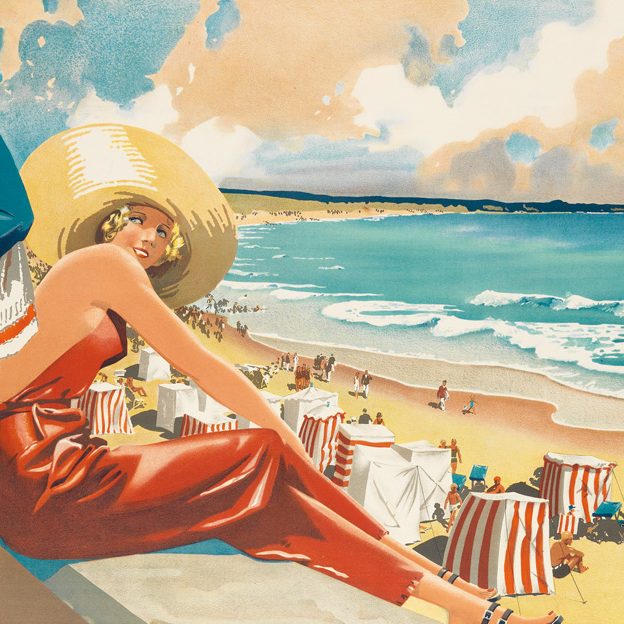 Posters & Cocktails: British Travel Posters
February 15, 2022
7–8:30pm
---
Posters & Cocktails returns to delight guests around the world! Take a trip across the pond with your favorite poster-loving duo: Poster House Chief Curator Angelina Lippert & Nicholas Lowry of Swann Auction Galleries. They will be exploring the exciting history of vintage British travel posters, from the romance of Brighton to the drama of the Scottish Highlands. Splash a spot of brandy in your tea and crumpets as these two careen across the British countryside. Along the way, Don Spiro of The Green Fairy Society will share his cocktail recipes that are stiffer than a Brit's upper lip.  
Posters & Cocktails is generously sponsored by Don Lebowitz & Claudia Wagner.
Singapore Sling
½ oz lemon juice
1 oz Cherry Brandy
1 oz London dry gin
1 1/2 oz soda water
Garnish with mint sprig
Hurricane glass
Pegu Club
1/2 z London Dry Gin
3/4 ounce orange Curacao
1 teaspoon lime juice (Rose's Lime Cordial works)
Dash bitters
Dash orange bitters
Cocktail glass
Planter's Punch
1 oz Jamaican Dark Rum
1 oz fresh lime juice
1 oz simple syrup (white sugar)
garnish with a lime
Cocktail glass
Bermuda Rum Swizzle
2/3 oz Goslings or Jamaican Rum
2/3 oz gold Barbados rum
1/2 oz triple sec
1/2 oz lemon juice
¾ oz pineapple juice
¾ oz orange juice
1/3 oz falernum
1 dash Angostura
Coupe glass
Gin Fizz
2 oz gin
1 oz lemon juice, freshly squeezed
3/4 oz simple syrup
1 egg white (about 1/2 ounce)
Collins glass
Top with Club soda
Suffering Bastard
1 oz London dry Gin
1 oz brandy or Cognac
½ oz Rose's Lime juice cordial (or fresh lime syrup)
2 dashes Angostura bitters
4 oz chilled ginger beer
double old fashioned glass
Garnish with orange slice and mint sprig
This online event will be hosted on Zoom with attendees cameras off. Closed Captioning will be provided. ASL interpretation is available upon request — please email Salvador@posterhouse.org to request interpretation services. A recording of this event will be made available for all registered attendees. Questions about accessibility? Please contact Salvador Muñoz, Public Programs Manager, at salvador@posterhouse.org.