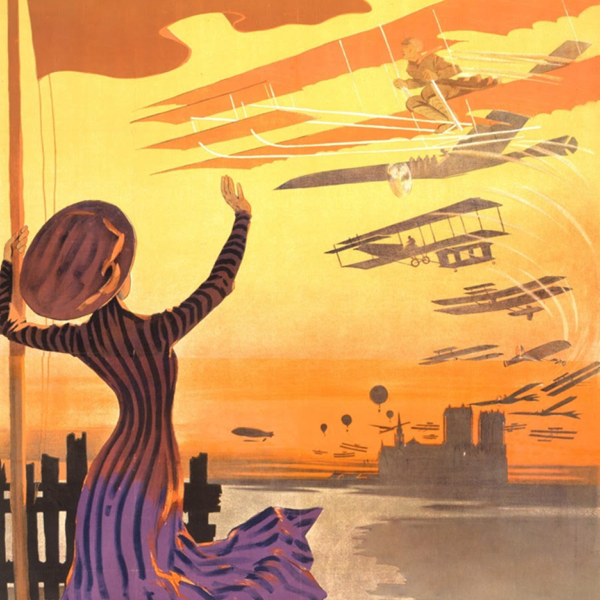 Posters & Cocktails Takes To The Skies
March 9, 2021
7–9pm
---
Our Posters & Cocktails parties have amassed a huge following, so we are keeping the momentum going by bringing this edition to new heights! That's right: it's a night of aviation posters and mile-high drinks!
Our Chief Curator will once again be hosting Nicholas Lowry of Swann Auction Galleries and Don Spiro of The Green Fairy Society over Zoom as they soar through all things aviation-related.
After Don gets us off the ground with our first cocktail, Nicholas will soar through posters for air shows, air meets, and even a few races! As our glasses empty, Don will pilot us through a few more beverages to keep us well-lubricated for the graphic design journeys ahead in the second-half of Nicho's talk.
Tickets:
Early Bird (purchased before February 17): Free!
General Registration: $3
Members: Free!
If you would like to drink along with us, please see an ingredients list below:
Aviation Cocktail
Maraschino Liqueur
Crème de violette
Fresh Lemon Juice
Lemon Peel (garnish)
Cocktail Glass
Flying Tiger Cocktail
Bacardi Gold
Grenadine
Angostura Bitters
Sugar
Cocktail Glass
Airmail
Lime Juice
Honey Syrup
Gold Rum
Dry Champagne
Highball Glass
Pan-American Clipper
Rye Whiskey
Lemon (muddled)
Simple Syrup
Jet Pilot from The Luau (c. 1958)
Fresh Lime Juice
Fresh Grapefruit Juice
Sark Jamaican Rum
Gold Puerto Rican Rum
151-proof Demerara Rum
Angostura Bitters
Absinthe or Pernod
Cinnamon Syrup
Falernum (a hard to find spicy ginger, lime, almond liqueur)
Crushed ice or Blender w/ Ice