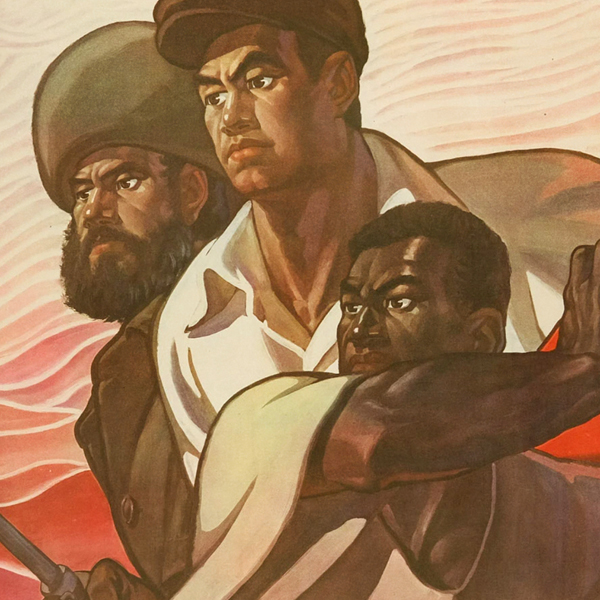 Representations of Blackness in Chinese Popular Culture
January 28, 2021
7–8:30pm
---
In this intimate conversation, scholars on contemporary Chinese culture will share a series of case studies to illuminate how depictions of Black identity in Chinese popular culture have evolved throughout the last century.
Spanning depictions of the American Civil Rights movement in posters from the 1960s to more recent Chinese popular culture, panelists will explore how globalization and both domestic and international political movements have impacted the way that representations of Blackness have been constructed and perceived in China.

Through this conversation, we hope to unpack how ideas of race and identity are transmuted across cultures with an eye towards new considerations and approaches for the future.
This event is presented in partnership with Gung Ho Projects. Featured panelists include:
Michael Leibenluft, an Obie Award winning theater and film director, is the Artistic Director of Gung Ho Projects, a platform for cultural exchange and performance in the United States and Asia. Recent bilingual projects include the folk musical Flood in the Valley and Salesman之死 by Jeremy Tiang, set to premiere at Target Margin Theater in Brooklyn. For more, visit: gunghoprojects.com and leibenluft.com.
Wenxuan Xue 文轩 is a graduate student in Theatre & Performance Studies at Tufts University. He is a theatre maker, scholar, and writer. He was a volunteer teaching artist at an NGO advocating for educational equity in rural China. He's interested in topics around Chineseness, queerness, migration, empire, and collective futurity through performances.
Dr. Keisha A. Brown is an Assistant Professor of History at Tennessee State University in the Department of History, Political Science, Geography, and Africana Studies. Dr. Brown is an Asian studies scholar with a regional focus on East Asia specializing in modern Chinese history. Her research and teaching interests include comparative East Asian histories, postcolonial theory, transnational studies, world history, and race and ethnic studies. She is currently extending her research on Sino-African American transnational relations to examine ideas of race and ethnicity and Afro-Asian diasporic connections.  
Dr. Claire Conceison (康开丽) is Quanta Professor of Chinese Culture and Professor of Theater Arts at MIT. Her teaching and research include contemporary Chinese theater, Asian American theater, cross-cultural performance, play translation, and sport as performance. Her books include Significant Other: Staging the American in China, exploring representations of Americans on the Chinese stage. Other publications include the introduction to the recent Chinese publication of Lorraine Hansberry's 1959 play A Raisin in the Sun (translated by Wu Shiliang in 1963).
Faye Lu is a PhD student in Asian Languages and Cultures at UCLA. Her research focuses on Chinese and Sinophone literature and popular culture at the intersections of the Cold War and global decolonization. She has also translated scholarly and literary work on Taiwan's indigenous communities.  
This virtual event will be hosted on Zoom with attendees cameras off. Closed Captioning will be provided. Questions about access? Please email Salvador Muñoz, Public Programs Manager, at Salvador@posterhouse.org