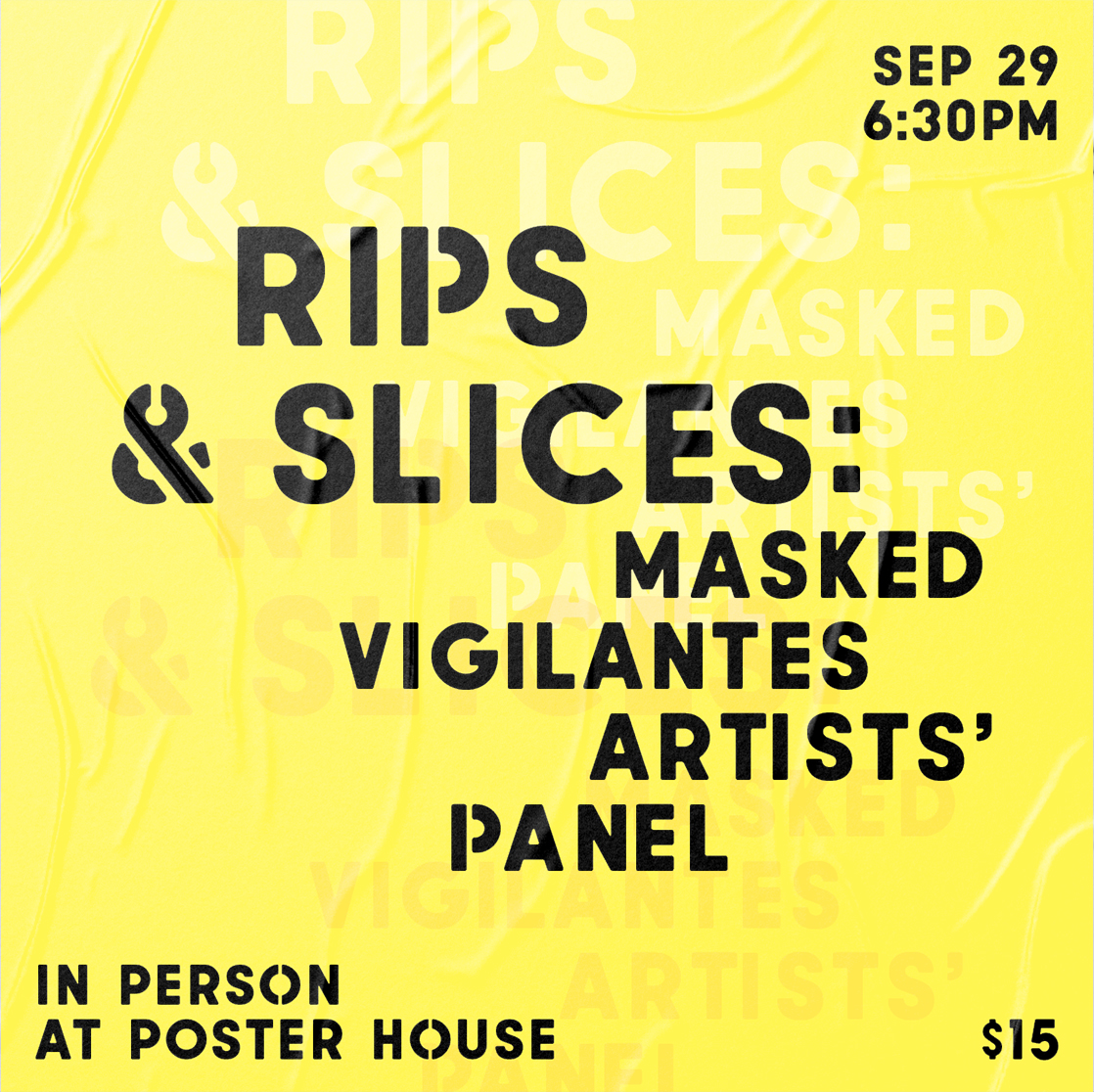 Rips & Slices: Masked Vigilantes Artists' Panel
September 29, 2022
6:30–8pm
---
Masked Vigilantes in Silent Motorbikes highlights how posters have long been co-opted by artists to create compelling, vibrant new works of art. Poster House is thrilled to welcome featured artists Swoon, Galen Gibson-Cornell, and Nicholas Fraser to a panel discussion moderated by curator RJ Rushmore on the significance of posters in their practice. Discover how these artists are inspired by posters and how they utilize the formal and conceptual elements of ad campaigns to produce new bodies of work. Each artist's approach to the medium is unique, making for a rich and vibrant conversation that will provide both newcomers and seasoned poster enthusiasts with a fresh perspective on the dynamism of posters. Questions strongly encouraged!
Caledonia Curry, known as Swoon, is a contemporary artist and filmmaker recognized around the world for her pioneering vision of public artwork. She has spent over 20 years exploring the depths of human complexity by mobilizing her artwork to fundamentally re-envision the communities we live in toward a more just and equitable world. 
Galen Gibson-Cornell is a visual artist working with a practice that combines urban exploration, repurpose of found-materials, and principles of détournement. He studies the layers of "urban skin" in cities—the posters, flyers, and paper advertisements—before returning to his Philadelphia studio to deconstruct the resulting materials into methodical and meditative artworks.
Nicholas Fraser creates installations, videos, and sculptures that grapple with the mutability of texts, exploring our compulsion to communicate and mining the gap between intention and perception.
RJ Rushmore is a writer, curator, and public art advocate who builds projects that disrupt visual culture. He is a cofounder of Art in Ad Places, a guerrilla public art campaign across New York City's former payphones, and he has curated projects for The L.I.S.A. Project NYC, Mural Arts Philadelphia, LMNL Gallery, and the Cantor Fitzgerald Gallery at Haverford College. RJ has been called everything from "one of the most respected critics of street and graffiti art in the world" to a "petty criminal."