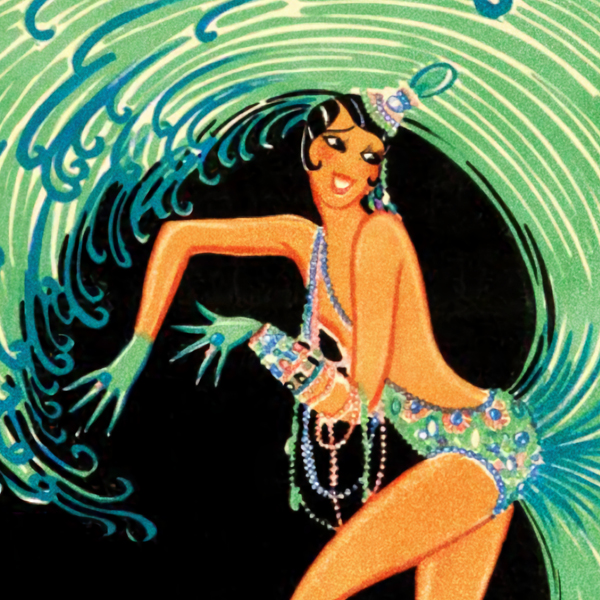 Standing Ovation: Posters & Cocktails
January 13, 2021
7–9pm
---
Whether you're a stage door floozy or a demanding diva, everyone loves a good cocktail. Tonight, join our three favorite poster-loving imbibers as they bring you another night of great design and tasty beverages.
Our Chief Curator will once again be hosting Nicholas Lowry of Swann Auction Galleries and Don Spiro of The Green Fairy Society over Zoom as they take us on a journey through some of the world's greatest performances in posters.
After Don warms us up with our first cocktail, Nicholas will introduce us to leading men, chorus girls, and epic performances advertised by posters. As our glasses empty, Don will help us create the perfect second act to our first drink, and so on until we get dragged off stage by a giant hooked cane.
Tickets:
Early Bird: Free til Dec 31
General Admission: $3
Members: Free!
While everyone is welcome to tune in and watch, if you'd like to make cocktails along with us, a full ingredient list can be found below:
BIJOU
Gin
Green Chartreuse
Sweet (Red) Vermouth
Orange Bitters
Cherry or Olive with a Lemon Twist
CABARET COCKTAIL
Dry gin
Bitters
French (White) Vermouth
Benedictine
GRANDE GUIGNOL
Dark Rum
Yellow Chartreuse
Cherry Heering
Fresh Lime Juice
PARISIAN COCKTAIL
Dry Gin
French (White) Vermouth
Crème de Cassis
ROSE COCKTAIL
French (White) Vermouth
Kirsch (Cherry Brandy)
Raspberry Syrup
Maraschino Cherry (Garnish)