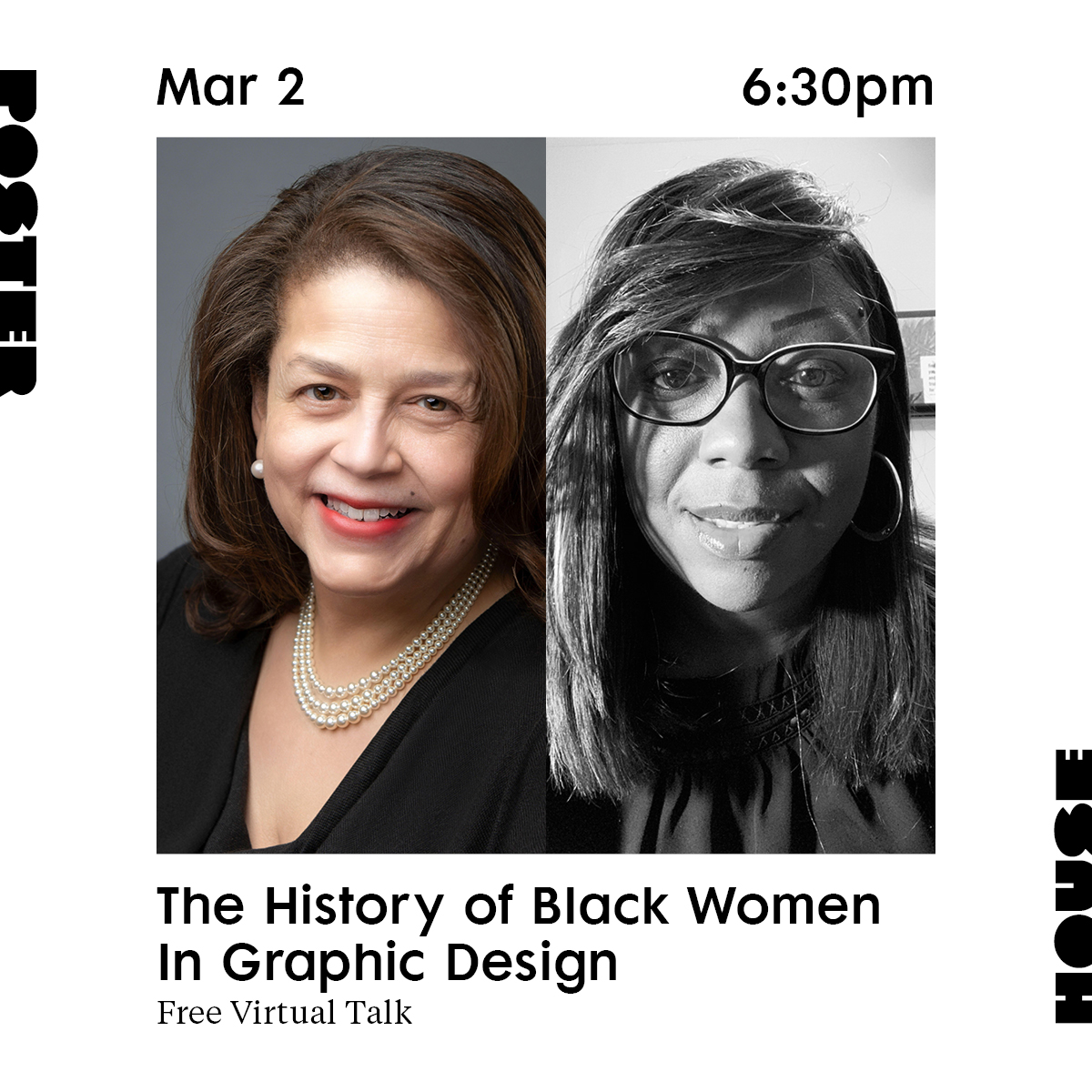 The History of Black Women in Graphic Design
March 2, 2022
6:30–8pm
---
Poster House is thrilled to welcome Dr. Cheryl D. Miller and Tasheka Arceneaux-Sutton for an evening celebrating the contributions of Black women to the field of graphic design. Accomplished designers in their own right, Miller & Arceneaux-Sutton will join forces to uplift the legacy of Black women designers, paying special attention to those that have shaped poster history. They'll shed new light on these deeply important graphic artists, highlighting their rightful place in design history while honoring the continued legacy of Black women in the field. This talk is for everyone from those new to design history to the seasoned professional—all attendees will learn something new, and questions are strongly encouraged!
Cheryl Miller is a national leader of Minority Rights, Gender, Race Diversity, Equality, Equity, and Inclusion advocacy in Graphic Design. She is founder of Cheryl D. Miller Design, Inc., N.Y.C., a Social Impact Design firm; she is a designer, author, trade writer for PRINT Magazine, CA Communication Arts Magazine, a revisionist, decolonizing historian and theologian. The Cheryl D. Miller Collection at Stanford University is her legacy professional firm's archive, including her memoir research and manuscripts. The collection features D&I initiative, Corporate Communications developed for Fortune 500 corporations, and Corporate Communications for National African American organizations developed post Civil Rights Era, 1974–1994. She is Distinguished Senior Lecturer, University of Texas, Austin Design. She is a member of The Board of Trustees, Vermont College of Fine Arts and The President's Global Advisory Board, Maryland Institute College of Art.
She is the AIGA Medalist 2021, "Expanding Access;" The Smithsonian Cooper Hewitt National Design Awardee, "Design Visionary" and the IBM Honorary Design Scholar, "Eminent Luminary" 2021.
Tasheka Arceneaux-Sutton is an Associate Professor of Graphic Design at NC State University and faculty in the low-residency MFA program in Graphic Design at Vermont College of Fine Arts. Arceneaux is the principal at Blacvoice Design, a studio that specializes in branding, electronic media, identity, illustration, print, and publication design, for educational institutions, non-profit organizations, and small businesses. The use of typography has a strong presence in her work—she is a type enthusiast who enjoys hand-lettering, typesetting, and deconstructing type through a combination of analog and digital processes. Arceneaux has exhibited work nationally and abroad, and in 2013, her work was featured in Idea: International Graphic Art and Typography magazine.
Arceneaux's research focuses on discovering Black people omitted from the graphic design history canon. She's also interested in the visual representation of Black people in the media and popular culture, primarily through the lens of stereotypes. She is the co-curriculum designer for Black Design in America: African Americans and the African Diaspora in Graphic Design, from the 19th through the 21st Century—Black Design in America is a series of pre-recorded BIPOC centered history courses. Her essay "A Black Renaissance Woman: Louise E. Jefferson" is a part of a collection of essays in the book Baseline Shift: Untold Stories of Women in Graphic Design History.
This online event will be hosted on Zoom with attendees cameras off. Closed Captioning will be provided. ASL interpretation is available upon request — please email access@posterhouse.org to request interpretation services. A recording of this event will be made available for all registered attendees. Questions about accessibility? Please contact Salvador Muñoz, Public Programs Manager, at salvador@posterhouse.org.