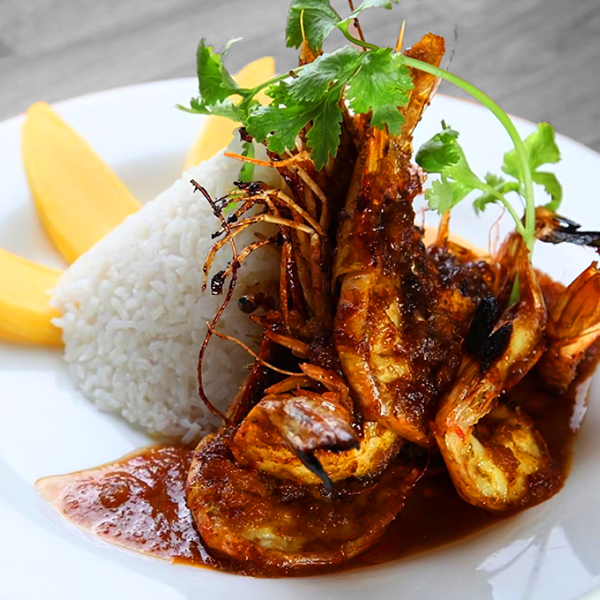 Virtual Cooking Class with Aux Epices: Last Goodbye
July 9, 2020
6:30–8:30pm
---
Mei Chau, owner of the Malaysian French restaurant Aux Epices, has sadly announced that she is closing the restaurant permanently. As a farewell gift to the community, Mei is hosting a very special Zoom cooking class, teaching two amazing dishes that were popular at her beloved restaurant. She'll be joined by "Stir-Fry Guru" Grace Young, author of Stir-Frying to the Sky's Edge. 
This summer menu will include Malaysian-Style Turmeric Shrimp (or Tofu) and Spicy Cucumber Salad with Preserved Mango. You can serve the meal with either steamed rice or a crusty baguette. The class is free, but any donations will greatly help us support this event and Mei's participation.
Mei has been kind enough to share her story with us since March as part of Coronavirus: Chinatown Stories, a video series by Grace Young and Dan Ahn detailing the harsh realities and uplifting narratives emerging in the Chinese community. We are honored to work with Grace, a partnership that arose out of programmatic collaboration for our current exhibition The Sleeping Giant: Posters & The Chinese Economy.
We invite you to cook along with Mei and Grace in real time. The recipes are listed below, where you'll also find resources for where to buy more specialized ingredients. Please note that you will need to have your ingredients pre-measured and ready for the session or you can just watch and cook later at your convenience. Mei will show you how to handle dried curry leaves, as well as the easiest way to cut the cucumber and preserved mango. If you're using fresh green mango, Mei will demonstrate a simple way to cut it. In this session, you'll also learn tips from Mei and Grace for using a wok and mastering the stir-fry technique. The recipe will also require a 14-inch flat-bottomed carbon-steel wok and a small food processor. If you do not have a wok, a 12-inch stainless-steel skillet will work. While the event is free to everyone, all donations will be used in support of this event.
About Mei Chau
Mei Chau was born into an immigrant Chinese family in Malaysia. As a young girl, she learned to cook from her mother who ran a food stall. Her dream to be an artist led her across the globe, and she ultimately settled in New York, studying at Parsons School of Design. In 1993, she and her husband, Marc Kaczmarek, a photographer, opened Franklin Station Cafe to supplement their income as artists, and it soon became a much-loved neighborhood fixture until its closing in 2008. In 2013, Mei opened Aux Epices (meaning "with spice" in French) on Baxter Street in Chinatown, with an emphasis on Malaysian and French dishes that are flavored with herbs and spices.
About Grace Young
Named the "Poet Laureate of the wok" by the food historian Betty Fussell, Grace Young has devoted her career to preserving the traditions of wok cookery. She is currently working on Coronavirus: Chinatown Stories, a video series created with Dan Ahn in collaboration with Poster House. Grace's accolades include James Beard awards for her video the Wok Therapist and cookbook Stir-Frying to the Sky's Edge. She is the co-founder of Wok Wednesdays, an online stir-fry group, and has taught over 12,000 students with her popular Blueprint online class The Art of Stir-Frying.
RECIPE INSTRUCTIONS
Spicy Cucumber Salad with Preserved Mango 
According to Mei, dried shrimp is the secret ingredient that gives this salad a distinct and special taste. Dried shrimp is available at Po Wing Hong market in New York's Chinatown or you can call in the order (212) 966-1080, and they will ship it to you. Mei likes the small shrimp at $8.99 a pound. You can make the salad without the shrimp—according to Mei, the salad will still be delicious but a little more ordinary. Preserved pickled mango with chili is available online at Walmart. If you cannot find it, you can use one fresh green mango that's been peeled and cut into matchsticks. You'll also want the juice from 1/2 a lime, which adds a tartness that's necessary. If you're using preserved mango there's no need to add the lime juice. 
3 kirby cucumbers
1 cup preserved pickled mango with chili, cut into matchsticks
1/4 large red bell pepper, seeds removed and cut into chunks
1/2 cup (about 4 ounces) dried shrimp soaked in 1 cup cold water 30 minutes (optional)
3 -4 small shallots, peeled and halved
1 red Anaheim chili pepper, halved, seeds removed and cut into 4 pieces 
5 to 6 fresh mint leaves, chopped
1/4 teaspoon salt
1/8 teaspoon sugar 
Cut thin lengthwise strips from the cucumber with a vegetable peeler, leaving about a 1/4-inch wide space between strips. Halve the cucumber crosswise. If the cucumber has big, mature seeds, remove them. Cut the cucumber into roughly 3-inch long and 1/4-inch wide matchsticks and put in a salad bowl. Cut the mango into matchsticks. You should have about 1/2 the amount of mango as the cucumber. Add the mango to the salad bowl. 
In a small food processor, combine the red bell pepper, drained shrimp (optional), shallots, and chilies. Pulse until it is the consistency of ground peanuts. It should not be smooth or liquified. Add this to the cucumber mixture and toss until just combined. Add chopped mint, salt, sugar—toss to combine. 
Serves 4
Malaysian-Style Turmeric Shrimp or Tofu

Curry leaves have a wonderful fragrance and Mei uses them here to infuse the shrimp or tofu with fresh citrus flavor. I was completely surprised when she told me fresh dill can be used in its place—this unexpected substitution is inspired, no doubt, from her exposure to French cuisine. I have cooked the dish with dill leaves, and while they are totally different from the flavor of curry leaves, the stir-fry remains scrumptious. Curry leaves are most often found in Indian markets and in some markets specializing in Southeast Asian ingredients. You can also find dried curry leaves online at Walmart. 
2 small dried red chilies or ½ teaspoon red pepper flakes
9 dried or fresh curry leaves, or 1 tablespoon fresh chopped dill sprigs 
1 pound large shrimp, peeled and deveined OR one 14-ounce package extra-firm tofu

¼ teaspoon ground turmeric
1/8 teaspoon freshly ground pepper
½ teaspoon sugar
2 tablespoons peanut or vegetable oil
1 tablespoon chopped garlic
1 tablespoon chopped shallots
½ teaspoon salt
In a small bowl, cover the small chilies in cold water for 1 hour. Drain the chilies and cut them into ½-inch pieces with the seeds. If using dried curry leaves, soak in cold water for 30 minutes, then squeeze out excess water. Using kitchen shears, cut through the shrimp shells two-thirds of the length down the back of the shrimp. Remove the legs and devein the shrimp, leaving the shells and tails on. If using tofu, rinse and cut into roughly 1-inch cubes. Pat the tofu dry with paper towels.  In a medium bowl combine the shrimp/tofu, chilies, curry leaves, turmeric, and pepper. Stir to combine and marinate for 20 minutes. Stir in the sugar. 
Heat a 14-inch flat-bottomed wok or 12-inch skillet over high heat until a bead of water vaporizes within 1 to 2 seconds of contact. Swirl in the oil, add the garlic and shallots. Then, using a metal spatula, stir-fry for 10 seconds or until the aromatics are fragrant. Push the aromatics to the sides of the wok. Carefully add the shrimp/tofu and spread them evenly in one layer in the wok. Cook undisturbed for 30 seconds, letting the shrimp/tofu begin to sear. Then, stir-fry 1 minute or until the shrimp/tofu just begins to turn color. Sprinkle on the salt and stir-fry for 1 minute or until the shrimp/tofu have completely turned orange/browned. Cover and allow to stand for 30 seconds off the heat. Uncover and stir-fry for a few seconds or until the shrimp/tofu are just cooked through.
Serves 4 with rice or crusty bread.