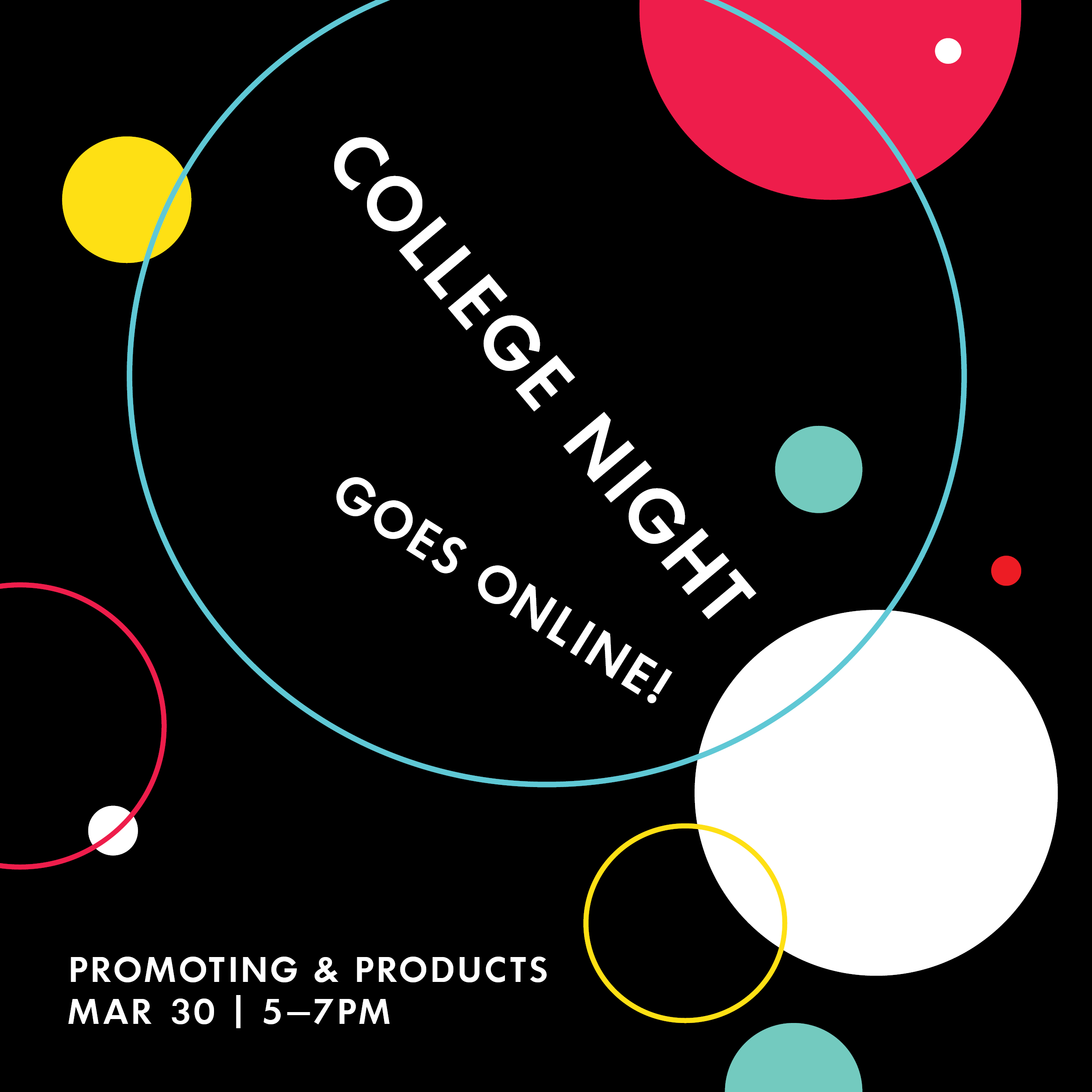 College Night Online: Promoting & Products
March 30, 2020
5–7pm
---
Poster House will continue to be a place of support and community building for our student members, and the student community we have been serving so far this year.
Our March College Night programs have been adapted to virtual panels and presentations. We will continue to provide learning opportunities and professional development to students in order to prepare for internships and jobs in the near future. We will host digital panels and distance support for resumé review and interview preparation. Poster House is opening up these panels to any student who is interested to join via Video Conference.
This Monday:
So many different fields and professions go into building and running a museum, but often that work is hidden or unseen. Our lecture series will feature at least three museum professionals speaking back-to-back about their roles and how they ended up in their line of work. Each evening is designed to introduce students to the diverse skills that go into the making of a museum.
After sharing these experiences, Poster House will lead students in a professional development session that will help prepare them to apply for a museum internship or other job in the field.
This Monday, learn all about Museum Promoting and Products! Hear from our director of PR, our marketing manager, our product manager, and workshop some interviewing basics!
5pm: Ed Winstead, Director of PR firm Cultural Counsel, speaks about how to plan and promote an organization as a whole.
5:20pm: Marketing Manager Bader AlAwadhi talks about the differences between PR and marketing, and how to strategize ad buys.
5:45pm: Product Manager Molly McGeehan shows the basics of product development and how the shop can support and supplement museum functions.
6:15pm: Interviewing Basics! Make sure you're grabbing the attention of your interviewer to land the perfect job.
This special College Night is offered to all students for free. Registration is required to receive access to the video conference. You will be e-mailed an access link the day of.
Like your time with us? Great! We offer $35 Student Memberships which provide you free access to live events, as well as museum access +1, throughout the year!
Looking to get more involved? This is only the beginning of Poster House's 2020 student programming. Join us in the future for:
Curation & Design Lecture
April 14, 6:30–7:30pm
Hear from legendary design scholar Steven Heller, our Chief Curator, our Design Director, and prepare for Poster House's Speed Dating!
Speed Mentorship
April 20-24
Bring your resume and best elevator pitch and engage in a round of speed interviews with the departmental heads at Poster House. The 2 most compelling candidates will be offered an internship in their preferred department that is coordinated with the student's calendar.
Helvetica
Film Screening
May 6, 6:30–9pm
Produced and directed by Gary Hustwit, this feature length documentary confronts the complex development of typeface and graphic design. Interviewing the masters of graphics type, Helvetica opens a conversation among designers about the necessary symbiosis of order and creativity.
All events listed are free with a Student Membership!