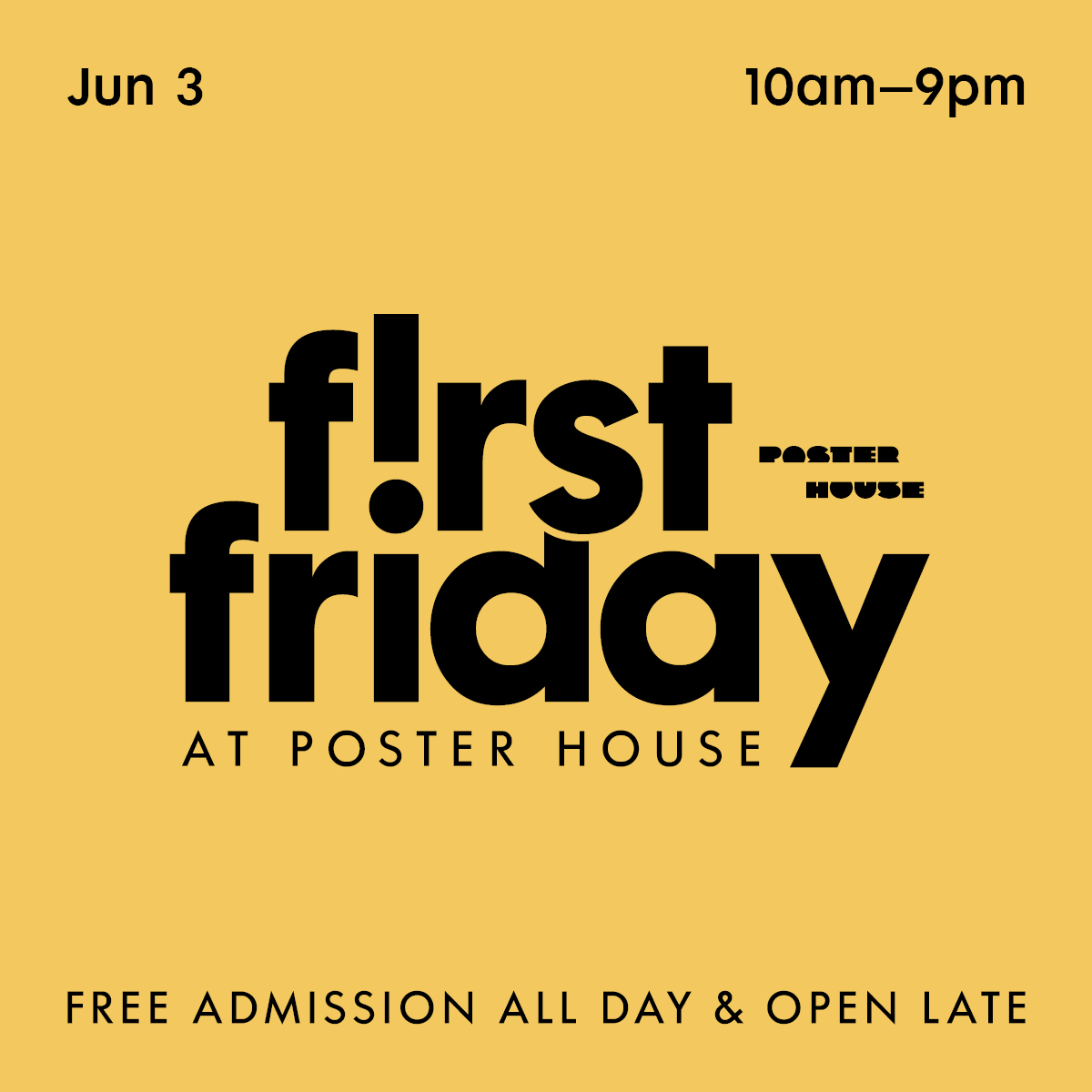 First Friday
June 3, 2022
10am–9pm
---
Join Poster House on the First Friday of every month for free admission and extended hours! Explore the museum's latest exhibitions and get in on the fun by attending a tour, workshop, or activity throughout the day.  Every First Friday is different, offering unique opportunities to engage with rotating exhibitions and the permanent collection.
1pm Ethel Reed Artist's Tour
Join Samanta Batra Mehta for an artist' tour of Poster House's acclaimed exhibition Ethel Reed: I Am My Own Property. Explore the exhibition through her eyes and learn how the floral imagery in the exhibition resonates with her contemporary practice. Samanta's unique perspective offers a fresh take on the exhibition that's not to be missed. Questions strongly encouraged!
4pm In-person Archives Tour $25
Don't miss this rare and exclusive opportunity to get a behind-the-scenes look at Poster House's permanent collection! Led by Collections Manager Melissa Walker, this intimate tour will give 10 people the chance to explore highlights from the museum's collection of over 10,000 posters from around the world. Catch a sneak preview of upcoming exhibition material, take a peek at recent acquisitions for the Living Archive, and get up close and personal with the museum's growing collection. Members receive 20% off by entering their email at checkout!
5pm Utopian Collage Workshop $15
Join Isometric Studio, designers of two exhibitions on view, for this hands-on poster making workshop inspired by the exhibition The Utopian Avant-Garde: Soviet Film Posters of the 1920s. Participants will make their own posters based on the innovative techniques featured in the show, including collage and hand illustration. Materials will be provided and no preparation is necessary. People of all ages and abilities are welcome.
7pm Poetry Reading with viento & Ms. Boogie
Poster House is pleased to welcome viento and Ms. Boogie for an evening of poetry. These talented, multi-hyphenate artists are sure to impress guests with their moving and insightful approach to verse. Ms.Boogie is an Afro-Latina Brooklyn-based MC and activist. Sex appeal, independence, and the power of femininity are at the top of her agenda as an artist—all topics readily discussed in the exhibition Ethel Reed: I Am My Own Property. Meanwhile, viento izquierdo ugaz is a multidisciplinary artist who considers the effect of migration on the visual language of their lineage, topics close to the many displaced artists featured in The Utopian Avant-Garde: Soviet Film Posters of the 1920s.