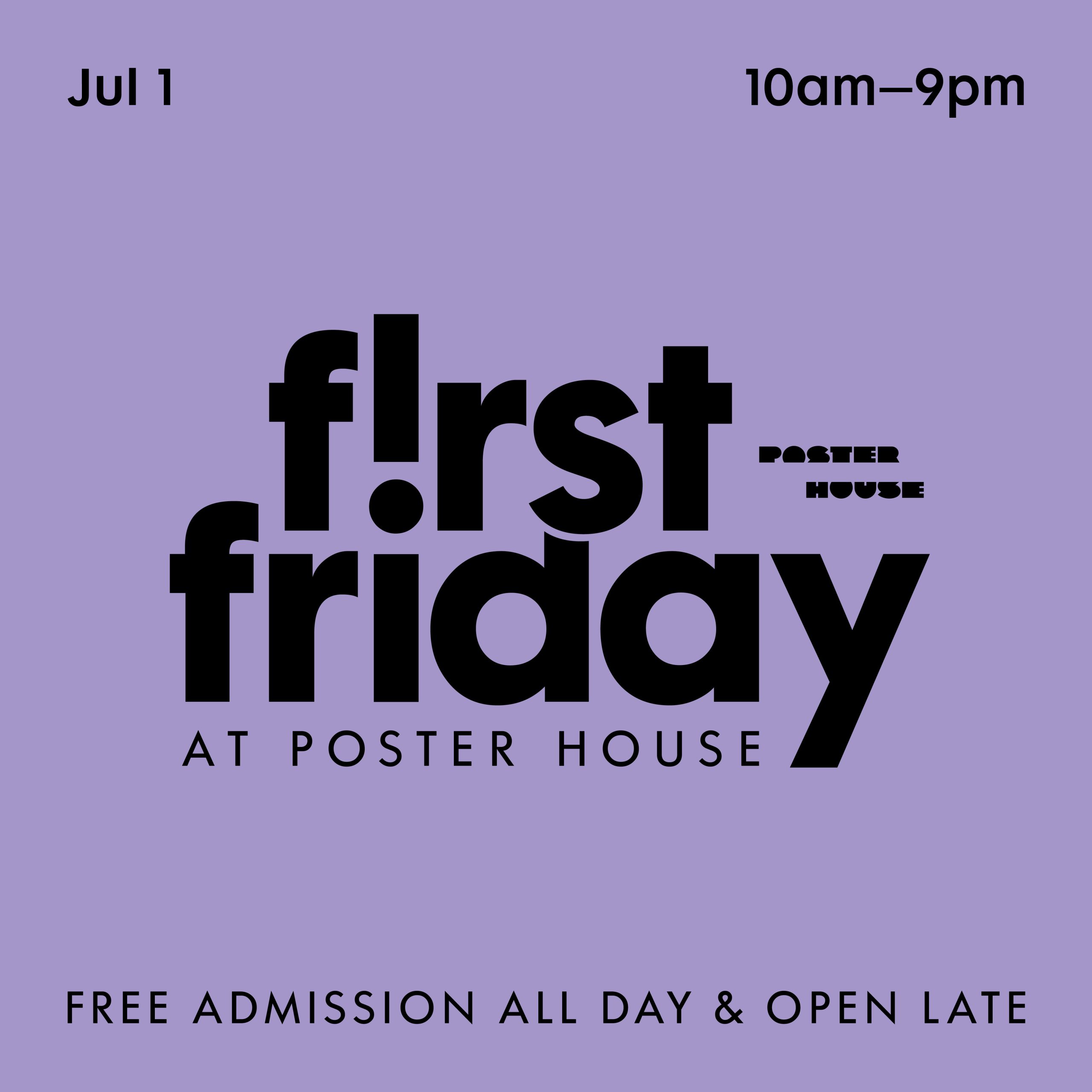 First Friday
July 1, 2022
10am–9pm
---
Join Poster House on the First Friday of every month for free admission and extended hours! Explore the museum's latest exhibitions and get in on the fun by attending a tour, workshop, or activity throughout the day.  Every First Friday is different, offering unique opportunities to engage with rotating exhibitions and the permanent collection.
1pm Peace Poster Workshop
Join artist and printmaker Todd Drake for this hands-on workshop centered on the theme of peace. Inspired by the work of designer and artist Peter Paul Piech, participants will learn basic linoleum printmaking techniques while creating their very own peace posters.  
5:30pm Ethel Reed Docent Tour
Get an inside look at the exhibition Ethel Reed: I Am My Own Property during this informative docent tour. Learn about this pioneering graphic designer—one of a handful of American women to make a name for herself in the field at the turn of the 19th century—and explore the dark and oftentimes defiant thread that ran just beneath the surface of her otherwise cheerful compositions. 
6:00pm Fabulous Florals Workshop
Just in time for spring, join artist and designer M for an interactive, flower-based design activity. Participants in this hands-on workshop will learn to incorporate floral motifs into their analog designs. Guests will leave with a personal design inspired by the exhibition Ethel Reed: I Am My Own Property.
NOTE: All workshop participants must show proof that they have received at least one dose of a COVID-19 vaccine.
7pm Battleship Potemkin Movie Screening
Enjoy a screening of the renowned 1925 silent film Battleship Potemkin in the museum's main gallery. Widely considered to be a technical masterpiece and one of the greatest movies of all time, Battleship Potemkin continues to influence and inspire filmmakers. This unique experience offers attendees the opportunity to enjoy the acclaimed film among the film posters featured in The Utopian Avant-Garde: Soviet Film Posters of the 1920s, on view through August 21.