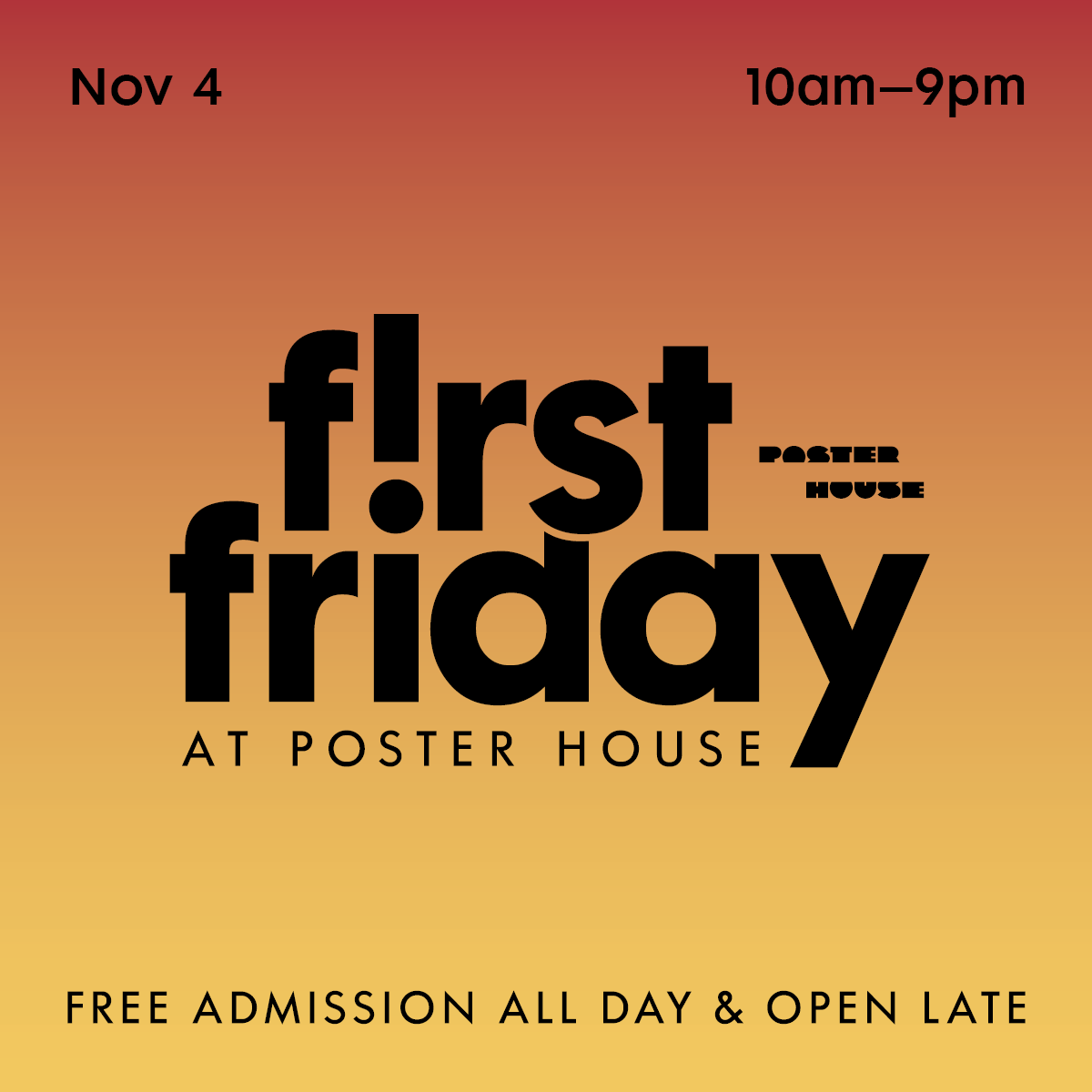 First Friday
November 4, 2022
10am–9pm
---
Join Poster House on the First Friday of every month for free admission and extended hours! Explore the museum's latest exhibitions and get in on the fun by attending a tour, workshop, or activity throughout the day.  Every First Friday is different, offering unique opportunities to engage with rotating exhibitions and the permanent collection.
All Day Viewing: A Maharaja & His World
Get the inside scoop on Air India from Uttara Parikh, former Air India Deputy Commercial Director. In this prerecorded program, Parikh gives guests a behind-the-scenes look at the inner workings of Air India's in-house design team. Learn about the development of the Maharaja and his many antics, with anecdotes you won't hear anywhere else.

1pm Exquisite Corpse with Jordan Seiler-$15
Join Masked Vigilantes artist Jordan Seiler for this hands-on workshop inspired by the exhibition. Participants will work together to add their own unique alterations to a poster reclaimed from the street, creating an entirely new collaborative piece of art. This is a rare opportunity to work with a contemporary public artist, many of whom choose to remain anonymous.
3pm Air India Curatorial Tour
Join guest curators Carly Johnson and Sophia Williamson for an in-person curatorial tour of Poster House's latest exhibition Air India's Maharaja: Advertising Gone Rouge. Discover the enduring and occasionally contentious travel posters of India's national airline while learning about the Maharaja's trajectory from a humble inflight memo pad to that of a cherished mascot. You'll also enjoy the many guises of the Maharaja, from a monk in Rome to a lover boy in Paris, and even a Playboy bunny in New York.
5pm Disability Justice Zinemaking Workshop
Join artist, designer, and disability justice activist Jen White-Johnson for this hands-on zine-making workshop. The practice of zine-making emphasizes creative storytelling, self advocacy, and photography through the use of paper and craft materials. Together, participants will create a collaborative zine on the topic of disability justice. Please note: This workshop is intended for people with disabilities and accomplices in the pursuit of disability justice. If you cannot attend in person, a virtual version of this workshop will be offered on November 11th.
Accessibility Notes: Masks will be required during this workshop, and are available free of charge at the museum. Clear masks are available on request. ASL interpretation, assistive listening devices, visual descriptions, and social narratives will be provided. If you have any accessibility needs, please contact Accessibility Coordinator Sarit Cahana at access@posterhouse.org or at ‪(914) 295-2387‬. ​​ 
6pm Air India Artist's Tour
Artist and Museum Educator Maya Varadaraj will lead this engaging tour of Air-India's Maharaja: Advertising Gone Rouge. Learn about Varadaraj's process in designing the graphic title for the exhibition, and hear how the show resonates with her experience as a contemporary artist. Questions strongly encouraged!
7:30pm Collage Workshop with Katherine Toukhy $10
Join artist and educator Katherine Toukhy for a collage workshop inspired by the pieces in Masked Vigilantes on Silent Motorbikes. Make your own mixed-media collage and experiment with different techniques in this hands-on activity. Participants will walk away with a finished work of art!
7pm & 8pm It's Showtime NYC Dance Performance
In honor of the art exhibition Masked Vigilantes on Silent Motorbikes, Poster House is pleased to welcome It's Showtime NYC for an exciting evening of various street dance forms. These skilled performers will activate the main gallery with dances commonly seen in public spaces throughout New York City. You don't want to miss this one-night-only engagement!