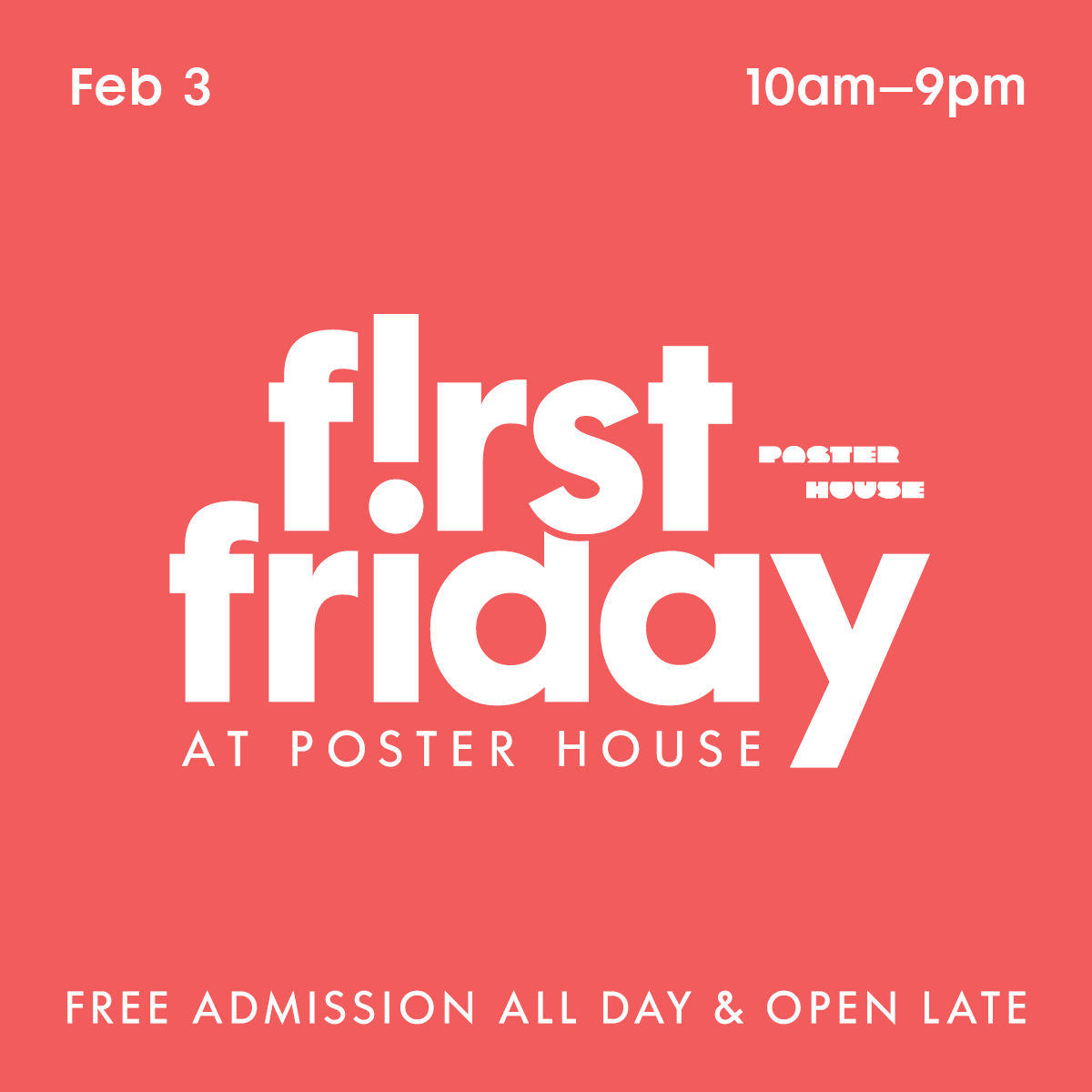 First Friday
February 3, 2023
10am–9pm
---
Join Poster House on the First Friday of every month for free admission and extended hours! Explore the museum's latest exhibitions and get in on the fun by attending a tour, workshop, performance, or activity throughout the day.  Every First Friday is different, offering unique opportunities to engage with rotating exhibitions and the permanent collection. Check back soon for a complete list of activities!
1pm Experimental Drawing Workshop $10
Poster House is pleased to welcome teaching artist Katherine Toukhy for an experimental drawing workshop based around the billboard Cairo By Night. Participants will explore dynamic movement and mark-making inspired by its figures and Arabic lettering, and will leave with a self-drawn silhouette of one of the dancers filled with their expressive marks and lines.
3pm Poster History Timeline Tour
Join Chief Curator Angelina Lippert for a tour of the museum's Poster History Timeline. Learn the fundamental movements that define Western poster history in this fun and engaging tour. Questions strongly encouraged!
4pm Street Dancing Workshop $10
Much like the remixed posters in Masked Vigilantes on Silent Motorbikes, street performances are part of the fabric of everyday life in a big city. In this interactive workshop, participants will learn the basics of street dance forms from It's Showtime NYC. Grab your dancing shoes and get ready to move your feet like a pro. All experience levels welcome!
5pm Masked Vigilantes Docent Tour
Join docent Tim Medland for a curatorial tour of Poster House's first contemporary art exhibition Masked Vigilantes on Silent Motorbikes. Learn how the artists like Swoon, KAWS, and Jilly Ballistic use posters as a medium from which to create entirely new works of art, repurposing the language of mass communication. Discover how advertising shapes our built environment and how artists leverage sanctioned and unsanctioned public art to disrupt what is commonplace.
6pm Bollywood Dance Workshop $10
Poster House is pleased to welcome back Ajna Dance Company for an interactive Bollywood dance workshop! Get ready to move your body and learn the basics of the famous dance style from New York's premier Indian dance company. All experience levels welcome! 
7:30pm Jamel Gaines Creative Outlet Performance
Poster House is pleased to welcome Jamel Gaines Creative Outlet for a performance in the main gallery. Enjoy the graceful choreography and flowing movements alongside the acclaimed exhibition Masked Vigilantes on Silent Motorbikes. You don't want to miss this showcase of pure excellence in contemporary dance.