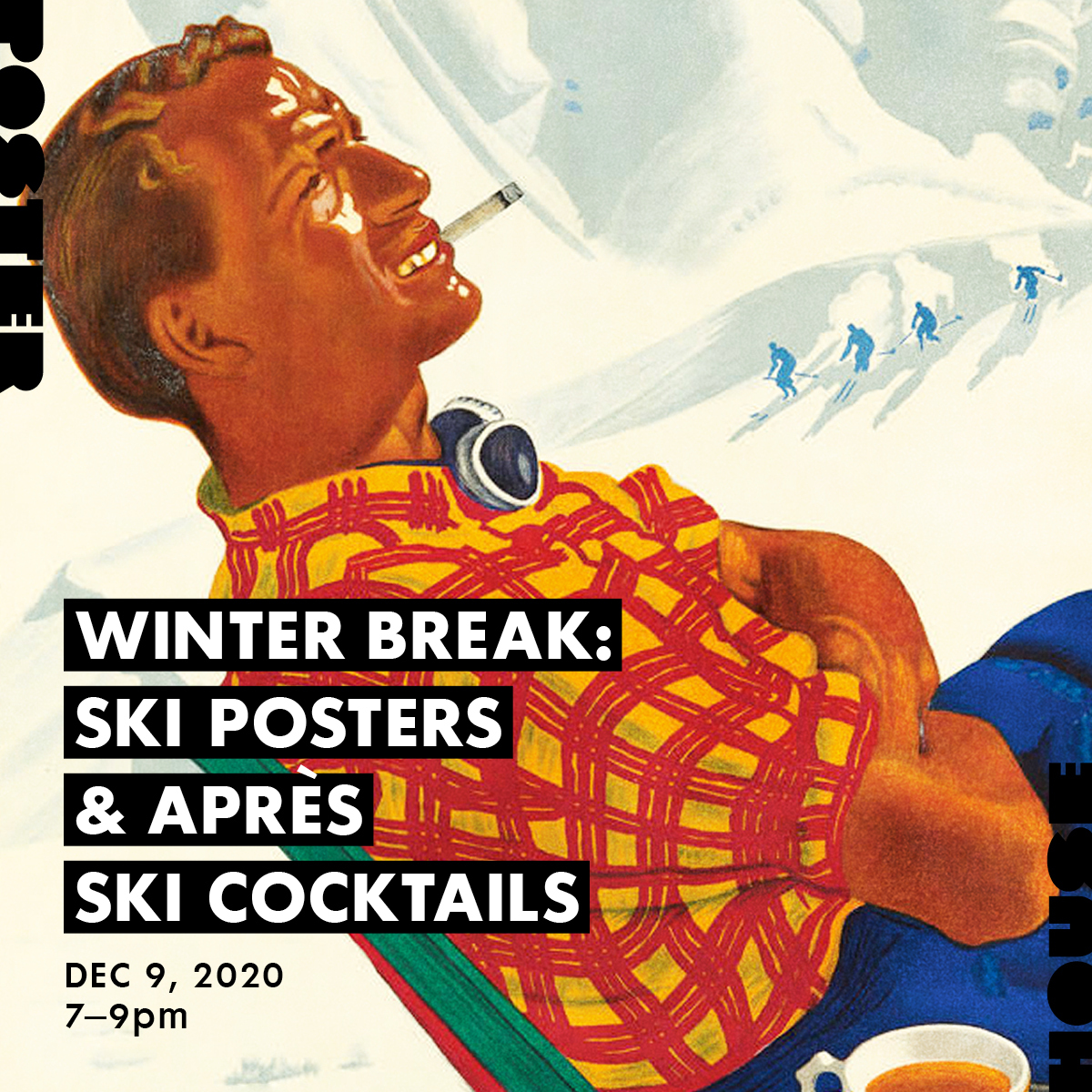 Winter Break: Ski Posters & Après Ski Cocktails
December 9, 2020
7–9pm
---
Our Posters & Cocktails parties keep getting rave reviews, so we're rounding out the year with one more night of great design and mixology!
Our Chief Curator will once again be hosting Nicholas Lowry of Swann Auction Galleries and Don Spiro of The Green Fairy Society over Zoom as they take us on a much-needed winter holiday full of ski posters and après ski drinks.
After Don warms us up with our first cocktail, Nicholas will jetset around the world, introducing us to all the major winter ski resort posters in history. As our glasses empty, Don will help us create the perfect ski chalet atmosphere with four more amazing beverages to warm our spirits against the winter chill.
Tickets:
Early Bird (purchased before Nov 1): Free!
General Registration: $3
Ingredients:
STINGER
Brandy
Crème de menthe
Ice
Rocks glass
Barspoon
OLD PAL
Rye
Campari
Dry vermouth
Ice
Rocks glass
Barspoon
EGG NOG
1 egg
Brown sugar or demerara syrup
Heavy cream
Whole milk
Jamaican Rum (or other, aged, rich rum)
Bourbon
Optional Apple brandy
Ice
Shaker and strainer
Optional ground nutmeg
Wine glass
HOT BUTTERED RUM
5oz unsalted butter
2 ounces dark or aged rum
Honey or brown sugar
Boiling water
A heat proof glass mug
Barspoon
Optional: ground cinnamon, ground cloves, ground nutmeg, ground allspice, salt, pepper, star anise, vanilla syrup, or other spice of your choice.
HOT TODDY
A brown spirit of your choice: rum, bourbon, Scotch, etc…
Fresh lemon juice
Honey, simple syrup, or sugar
Cinnamon stick
Orange
Boiling water
A heat proof glass mug
Optional: Ginger, bitters, or other spice of your choice.