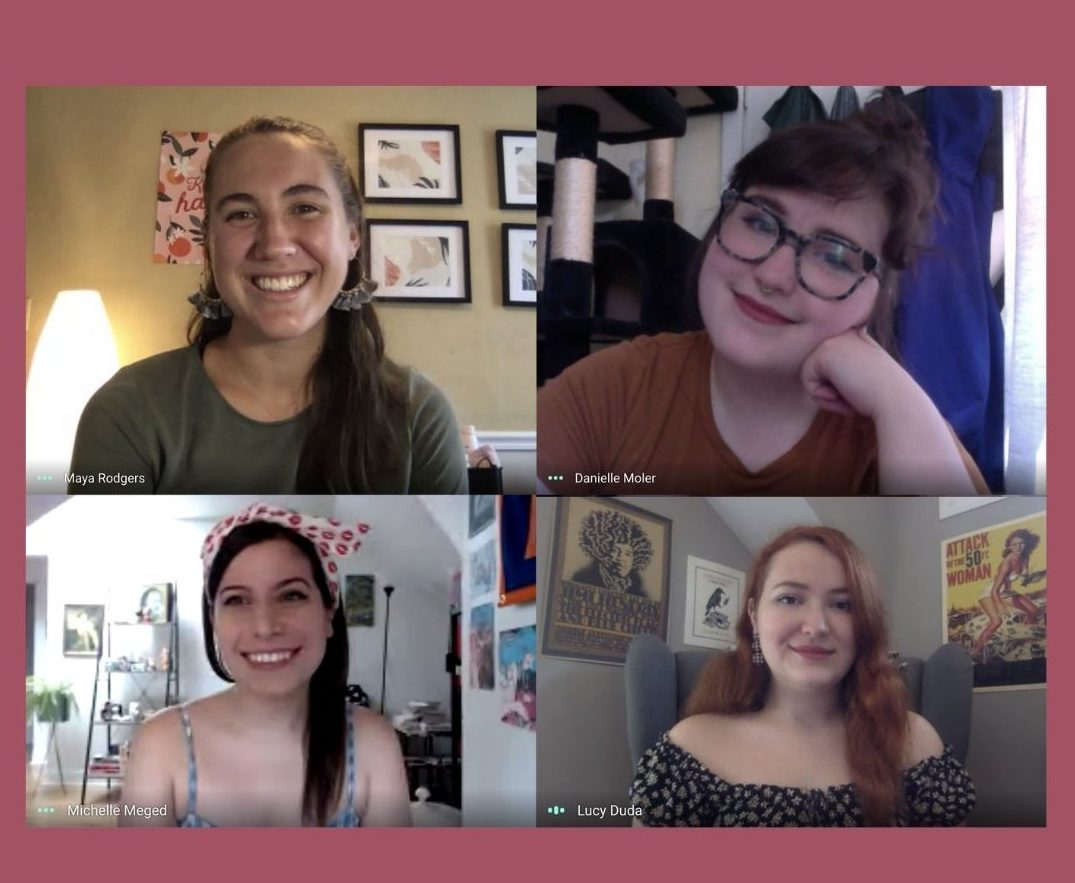 August 18, 2020
Interning at Poster House: Summer Edition!
Rating: G
Hello from Poster House's four friendly summer interns! Over the past nine weeks, we've each worked on individual projects spanning the Collections, Development, Education, and Evaluation departments, and come together to build out the upcoming season of the College Night series. We thought we'd share a bit about what goes on behind the scenes as remote interns at the only museum in the United States devoted to the global history of posters.
The museum launched College Night in February as a monthly after-hours event for students to connect, explore the museum, and gain resources to begin their careers in the art, design, and museum fields. Due to COVID-19, College Night moved to the virtual realm in March, and this change in venue and reach inspired us to create a new slate of engaging and informative programs for our expanded audience. We've been able to invite inspiring guest speakers from all over the country, make the events more accessible for students, and dive deep into social issues and career guidance during a time when the art world is dramatically changing. The official event lineup will be announced soon, so stay tuned to learn about what we've been working on all summer!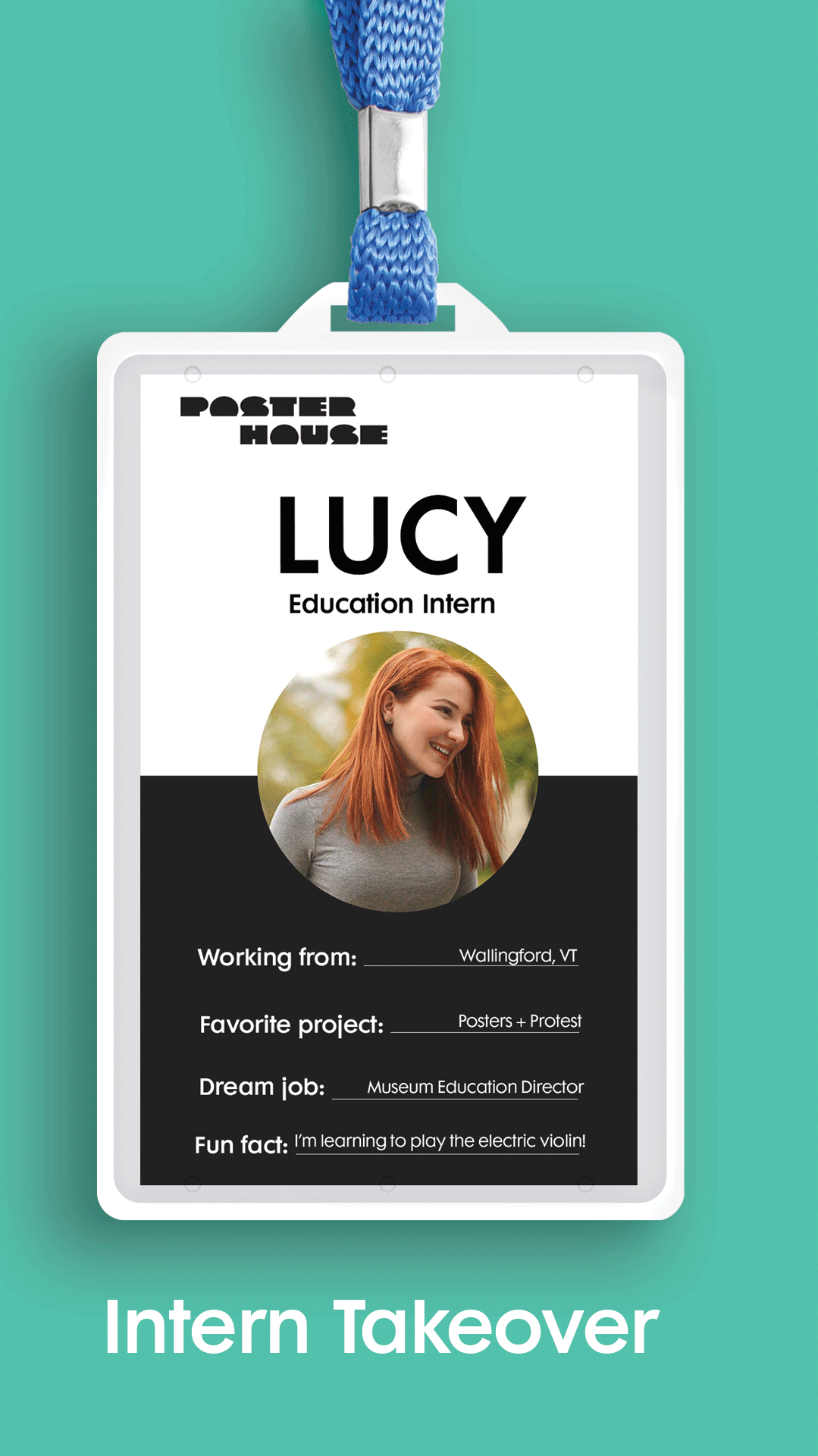 MEET LUCY
It's been a really exciting and unusual time to join Poster House as the Education Intern. The past few months have been a whirlwind for schools, colleges, and arts education organizations, with remote learning bringing new challenges for equity, access, and the logistics of space and supplies. One major focus of my internship has been thinking of ways the museum can support teachers and students in the coming school year: what resources are most helpful? How do we create engaging virtual programs in place of field trips? Can virtual programs give us new opportunities for outreach and arts integration? What are the biggest things on college students' minds this year? Because Poster House opened to the public just a year ago, the Education team has been able to create all of their programs, lessons, and resources from scratch to fit the changing needs of the community. From planning this year's College Night series to working on the museum's first educator guide, it's been amazing to get in on the ground floor of this process and have a voice in what our programming should look like.
My personal project for the summer was to create a teaching resource for visual arts, music, history, and civics classes using the museum's collection of 1960s psychedelic concert posters. It was a challenge to adapt the flow of a live visit to a set of slides, especially with so much uncertainty about what classroom and museum experiences will look like for the near future. My mentors Sam and Sierra helped me organize my wide-ranging interests and rein in my more elaborate ideas (like a massive interactive webpage that I have nowhere near the technical skills to create). In the end, I created a set of 60 slides that use concert posters and music as primary sources for historical, aesthetic, and civic inquiry, with several hours' worth of discussion questions, activities, curriculum connections, and links to additional resources. The museum will be able to use the slides both externally and internally, this school year and beyond, sharing them with teachers as a lesson planning resource and turning them into virtual tours led by our own museum educators.
When I applied for this program, there was no predefined Education option. I submitted a proposal for a "pitch-your-own" internship, meaning it was up to me to figure out how I could best contribute to the museum and what I wanted to get out of the experience. That process seemed daunting from the outside, but as soon as I met my mentors, it all began to fall into place. From career development sessions and Meet n' Greets with leaders at other institutions, to collaborating with people across all different departments, I felt so supported every step of the way—and I learned and accomplished more than I could have expected. Poster House was already one of my favorite museums, and sometimes it's disappointing to learn how the sausage gets made—but my peek behind the curtain has only made me appreciate it more.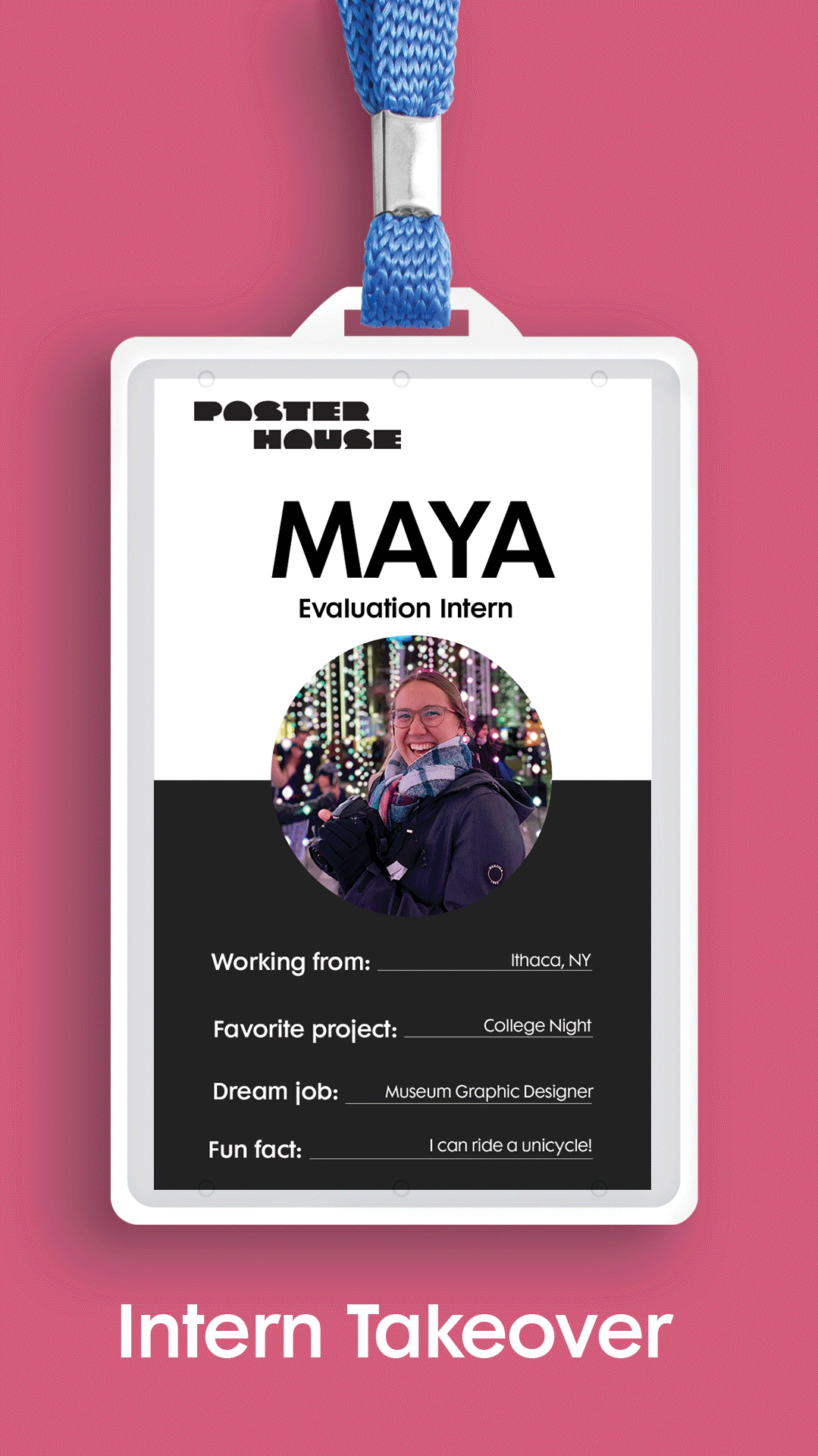 MEET MAYA
As the Evaluation Intern this summer, I've been able to get my hands on multiple projects in different departments. This is one of the things I love most about Poster House—such collaboration between different departments is crucial in creating and brainstorming programming. Using my evaluation skills, I was able to create a project with College Night. I created a survey to find out what students were looking for as we looked ahead to 2020-21 programming. Using our archived emails from past events, I collected and analyzed results from 28 students into a visual data report. Being able to combine my passions for evaluation and graphic design with this project was rewarding, but having insight into what students were looking for as we moved forward with our next season of programming was beyond satisfying. Having an idea of what students wanted and coming into our meetings with that knowledge really helped me have the confidence to come up with ideas for our events.
I've also been lucky to work with the Education team to design Poster House's first ever Educator Guide on Posters in Protest. Providing content that relates to our exhibitions and collections in a time where museums and schools are closed has been a challenge for everyone, but working with this incredible team to provide teachers with resources has been inspiring. Being able to use my design skills was an added bonus!
This virtual internship experience has been so incredible and has given me so many resources as I move forward towards a career in the museum industry. From our weekly guest speakers and career development, to the welcoming atmosphere in our town hall and book club meetings, I've grown so much in the short time I've had here. Working with the other interns has given me perspective into different career paths and great friendship in the short time we've known each other. I can't wait for Poster House to reopen and hopefully find my way into New York City one day. And, of course, I'll be taking that post-visitation survey!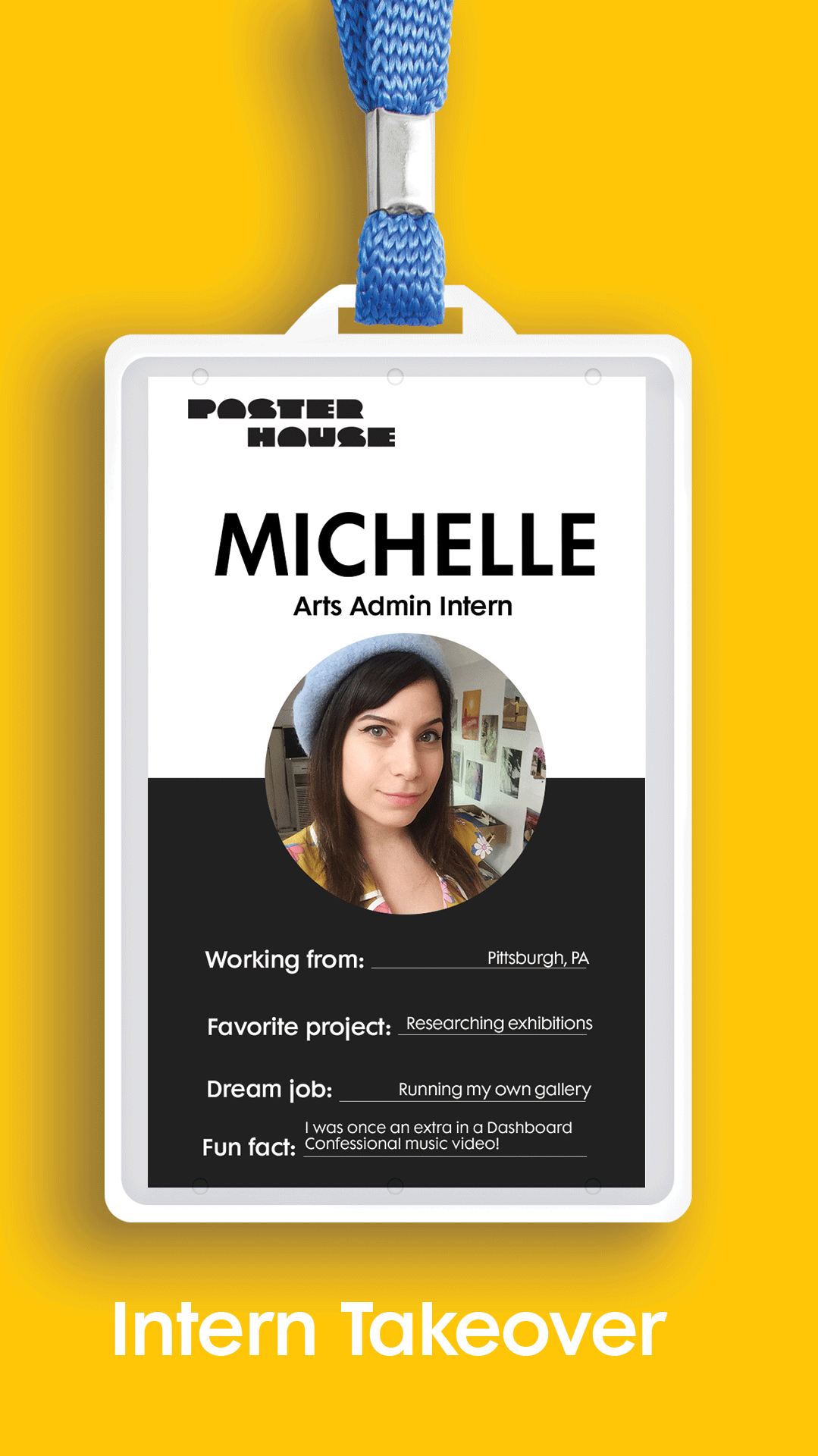 MEET MICHELLE
As the Arts Administration intern at Poster House, I've been working closely with Director Julia Knight to diversify the museum's revenue streams. This means applying to grants from both private foundations and federal agencies like the National Endowment for the Arts. I've also written pitches to corporations to try to get them on board as sponsors for upcoming exhibitions.
Because our exhibitions are SO COOL this can seem like an easy sell. And in a sense, my job is a lot more fun because it's a joy to talk about all the awesome things we have going on (and genuine enthusiasm *does* go a long way). But the job entails a lot of research to ensure I'm representing the museum accurately and meeting the needs of our prospective partners. I have to find a way to make those connections not only clear, but also convincing in order to secure the funding the museum needs.
I'd say the hardest part of the job is waiting to hear back. You pour your heart and soul into these proposals and just have to cross your fingers that they go through. It can take months before you find out if they've been accepted.
Beyond this particular role, Poster House has given us incredible opportunities to develop our skills, connect with other arts professionals, and try out new things (:::cough::: blogging :::cough:::). Through virtual Meet n' Greets, professional development seminars, and cross-departmental Town Halls, I've learned so much about the museum sector overall and where I see myself in it. I am so grateful to have met so many wonderful people through this process, and hope that in the future I'll be lucky enough to work with a team as creative, open, and supportive as the one at Poster House.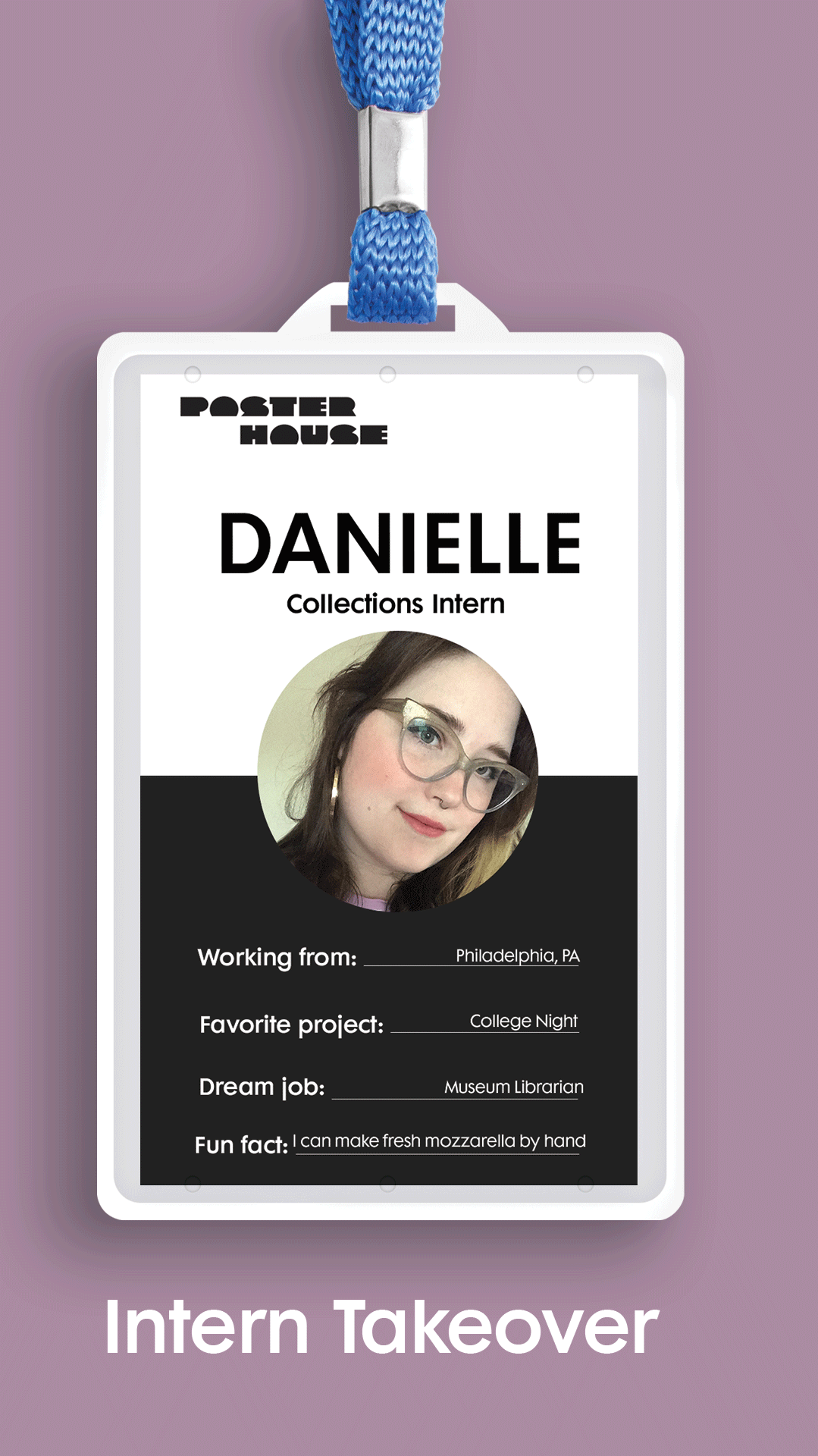 MEET DANIELLE
As a library and archives person who has always been interested in working in museum collections, it's been a delight to serve as Poster House's Collections Intern this summer. Collections is an area of the museum that encompasses any and all tasks regarding the storage, cataloging, and tracking of posters within our collection. Since I'm a virtual intern, I don't get to do so much of the hands-on work of handling the posters themselves, but I do get to work in our designated collections management software, TMS! I have specifically been working on cleaning up the records of signs and posters from the Boston Women's March in 2017. Making sure that the metadata associated with each record is accurate and dependable is super important in maintaining a consistent and organized database, and doing this has been a great outlet for my love of detail-oriented work. Before coming to Poster House, I hadn't been able to work with TMS and now that it's essentially the industry standard for collections software, gaining proficiency in using it is a great skill to have moving forward in my career.
Although I'm most comfortable in the deep recesses of the collections database, this internship has also taken me out of my comfort zone and pushed me into a new area that I hadn't previously considered: programming. Coming up with events for the College Night series has been so rewarding for me despite my inexperience and has been a wonderful opportunity for collaboration with my cohort and other colleagues at the museum.
I was initially a little anxious about completing a virtual internship since so much of my experience has been working with actual documents and objects, but I'm happy to say that the team at Poster House really went out of their way to make this internship useful AND fun. I have particularly enjoyed our career development sessions where we tackle topics such as interviewing and self-care, but also our Meet n' Greets where we talk with museum professionals that are working in the field right now who share their own career narratives and give real advice. Sometimes being an intern can feel like being an annoying little sister who has to bug everyone else for help or something to do, but my experience at Poster House couldn't be any more different and I feel so valued and respected by my cohort and coworkers. As someone who has worked a lot of jobs in my short time on this planet, I'm just hoping that my future employers can stack up to Poster House.