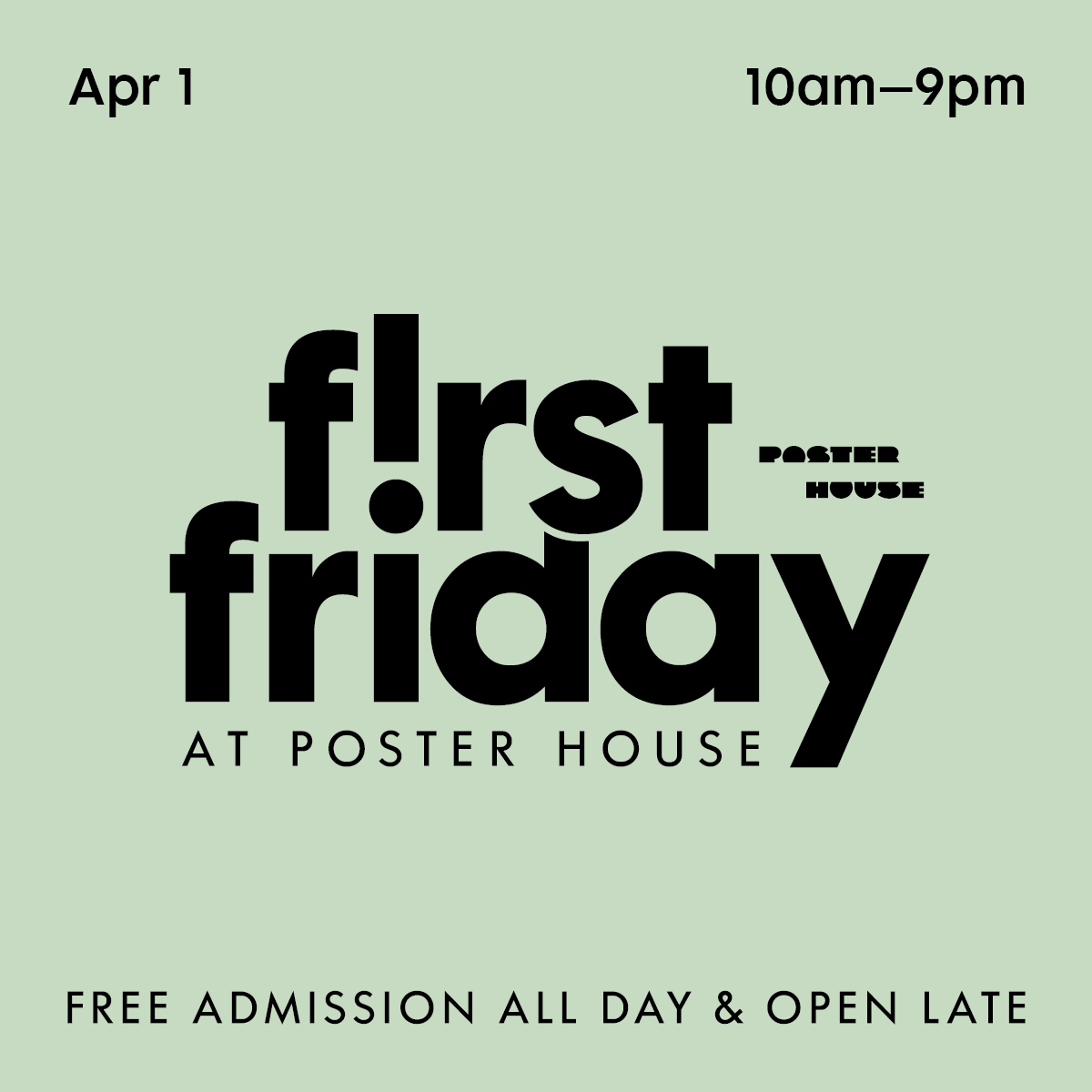 First Friday
April 1, 2022
10am–9pm
---
Join Poster House on the First Friday of every month for free admission and extended hours! Explore the museum's latest exhibitions and get in on the fun by attending a tour, workshop, or activity throughout the day.  Every First Friday is different, offering unique opportunities to engage with rotating exhibitions and the permanent collection. Check back soon for a complete list of activities!
Available All Day: Kids Activity Kits
Bringing your young ones with you to First Friday? Stop by the Info Desk and ask for a kids activity kit! This self-led, hands-on activity kit is intended for kids ages 5-12 to respond to the exhibition Ethel Reed: I Am My Own Property.
12:30-2:30 Center for Book Arts Workshop-$30
Join Center for Book Arts for this in-depth linoleum printing workshop inspired by the printing techniques in Ethel Reed: I Am My Own Property. In this course lead by artist and printmaker Elizabeth Castaldo, students will learn the basics of relief carving and printing. Using speedy carve blocks—an easy to carve material—we will practice carving techniques using linocut tools. Each student will create their own block with their own original image. We will then learn to print the blocks by hand using water based inks on paper. The instructor will cover methods for transferring an image to the block, various carving techniques, inking the block, and printing. Students will leave the workshop with a block they can continue to print from at home.  Members receive 20% off by entering their email at checkout!
4pm Ethel Reed Curatorial Tour
Chief Curator Angelina Lippert gives guests an inside look at Ethel Reed: I Am My Own Property, on view through August 21. Learn about this pioneering graphic designer, one of a handful of American women to make a name for herself in the field at the turn of the 19th century. Delve deeper to explore the dark and oftentimes defiant thread that ran just beneath the surface of her otherwise cheerful compositions, and get familiar with how this edgy artist's complicated biography influenced her work. 
6pm Utopian Avant-Garde Tour
Join Chief Curator Angelina Lippert for an exciting tour of The Utopian Avant-Garde: Soviet Film Posters of the 1920s, on view through August 21. Explore the highs and lows of the golden age of Soviet graphic design with one of the foremost experts on poster history. Featuring posters by Alexander Rodchenko, the Stenberg brothers, and many more of the most influential Russian graphic artists of their time.
7pm Isometric Exhibition Design Tour
Ever wonder what goes into making a museum exhibition? Join Isometric Studio for an in-depth tour on how they designed Poster House's two new shows, taking inspiration from the posters to create engaging and unique installations.