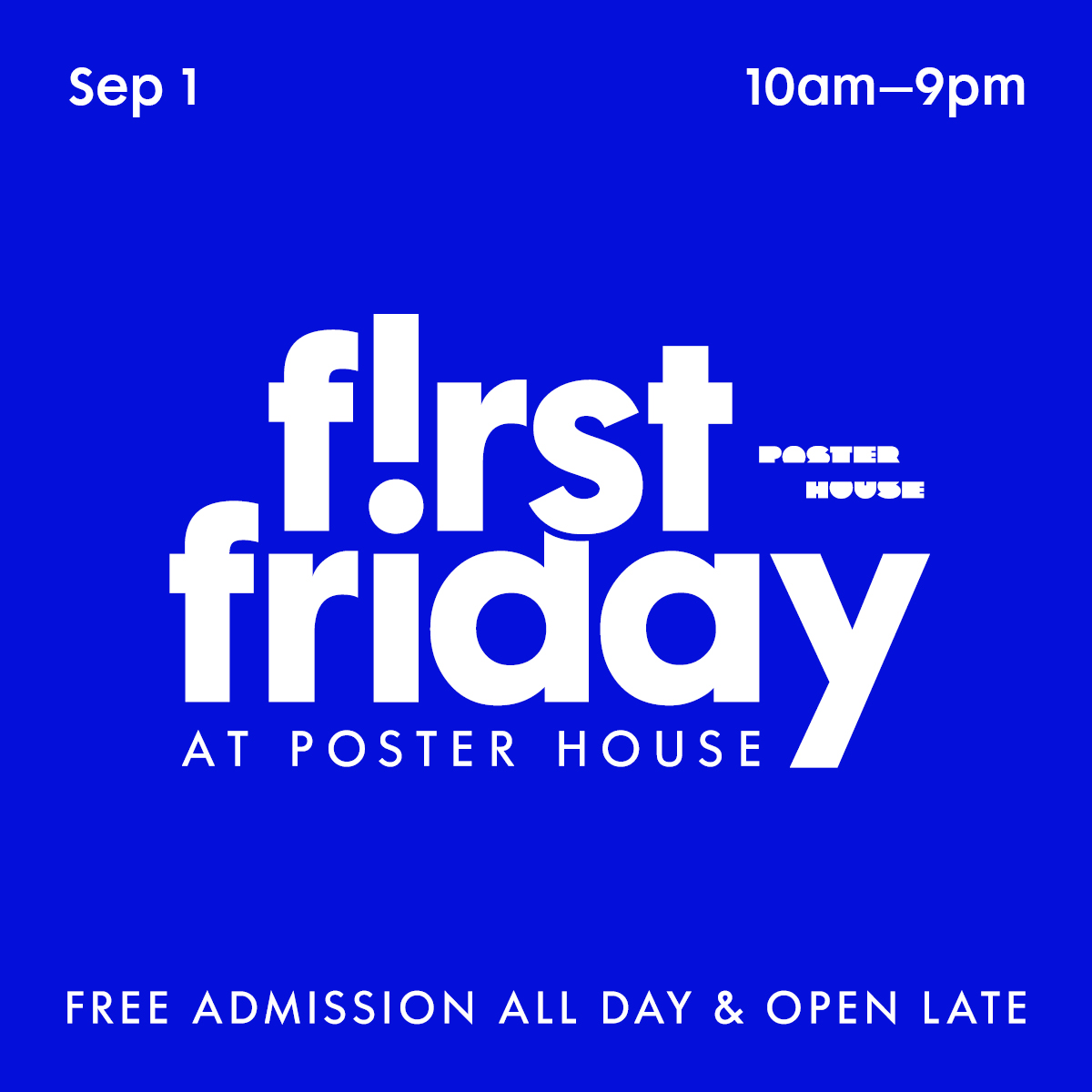 First Friday
September 1, 2023
10am–9pm
---
Join Poster House on the First Friday of every month for free admission and extended hours! Explore the museum's latest exhibitions and get in on the fun by attending a tour, workshop, performance, or activity throughout the day. Every First Friday is different, offering unique opportunities to engage with rotating exhibitions and the permanent collection. This month, Poster House's CMYK Council is taking over to bring a fun and educational lineup of activities all day long! 
1pm Celine Hurka Type Talk
What's your type? Learn about the ins and outs of creating a typeface from type designer Celine Hurka as she speaks about her experience designing her typespecimen featured in Advertising Type: Women in Digital Design. Celine's expansive knowledge of global type and graphic design is an experience not to be missed. Questions strongly encouraged!
2pm Dr. Rosemari Mealy in conversation with Es-pranza Humphrey
Poster House is honored to host veteran Black Panther member Dr. Rosemari Mealy in conversation with curator Es-pranza Humphrey against the backdrop of her powerful exhibition Black Power to Black People: Branding the Black Panther Party. Learn about Dr. Mealy's experiences as a party member and her continued support of human rights and international solidarity in Cuba. 
3pm Exhibition Design Tour with John Kudos
Go behind the scenes with award-winning designer and co-founder of KASA Collective, John Kudos, as he walks through the process of designing our stellar exhibitions Made in Japan and Black Power to Black People. 
4pm Pattern-Making Workshop with Zipeng Zhu
Join graphic designer extraordinaire, Zipeng Zhu, for a DAZZLING pattern workshop! Explore exciting color combinations and patterns using a variety of materials. Supplies will be provided and no preparation is necessary—just bring your imagination and curiosity!
5:30pm Portfolio Reviews
Calling all students and recent grads! Join us for a unique opportunity to have your portfolio materials reviewed by CMYK members: Douglas Davis, Zipeng Zhu, John Kudos, and Maya Varadaraj. Participants can meet with up to two CMYK Council members for ten-minute sessions each  and receive feedback on their portfolios. Prior sign-up is required, and attendees must be on time to participate. Unfortunately, we are unable to accommodate late arrivals.
7pm Rashad Wright Spoken Word Performance
Catch artist and performer Rashad Wright as he activates our space with a powerful spoken word performance.